The flourishing future of your conference meeting is in your hands! Are you wondering what headphones with a mic you should buy for your next video conference so that your sound is crystal clear to the person sitting across the device? Good headphone with a mic is a must to make your essential business conference via video or conference call a success. One of the primary reasons for misunderstanding words or delays in meetings is that the Mic does not get promptly connected or the words are not adequately clear. Such problems can be eliminated using proper headphones with noise cancelling features, sound quality mic, and top-notch audio performance. But there are so many headphones available in the market, so how will you know which headphone is the ideal choice for you? That is why we have this guide for you! This article will guide you through the essentials you need to look for while making your purchase, some of the best headphones, their benefits-disadvantages, and many more.
Note- We have something for gamers also. So, do not forget to read the article till the end.
Are headphones with a mic worth buying?
If you are attending video meetings and conferences, for instance, suppose on Google meet, having headphones with good quality sound performance and good sound-producing Mic is a must. For instance, if you are a teacher, making your side clear to your students is essential for their better understanding. Therefore, your Mic needs to be such that it does not pick up the unwanted background noise but makes your voice sound clear.
❤️ Benefit while travelling?
Sometimes even if you are on tour, you might need to attend essential video conferences with the clients. But, under set circumstances, the Mic must be such as to eliminate the background noise and focus and make your voice clearer, even if you are travelling on a distant land. No need to worry about the noises going on in your background as you can stay assured that the headphone with the Mic you are using will not let the person across the phone hear them.
❤️ Benefit while gaming?
We often need quality headphones for gaming to ensure a smooth, undisturbed gaming session. We also need to communicate with many people over the game through video and audio calls. While being focused on the game, it is not possible for one to also be focused on the Mic. Thus the Mic needs to be one that will be able to take clear commands and pass them on. If the voice is unclear, the person sitting on the other side might not be able to understand and take your commands to act accordingly in the game. As a result, you might lose your almost-won game due to bad-quality headphones and Mic. Thus, excellent headphones with a mic are almost necessary for anyone who loves gaming.
❤️ Benefit while communicating?
Video chat is the most convenient way to keep up with your friends and family who live elsewhere. However, the headphones and microphone quality is essential to ensure clear communication, especially when you are out of your house and trying to communicate with them. So, get yourself a pair of headphones with a mic through which you can communicate with your people without any complications.
How long will headphones with a mic last?
The simple answer to this question is that the longevity of the headphone depends upon what headphones you are using. But generally, a good quality headphone's average lifespan is between 5 and 10 years. So, though the price of headphones might seem expensive to you, you also need to consider that those expensive headphones last for years and continue to provide you with good quality services until the end. You need to spend money on their maintenance and a little bit on repair so the headphone remains in good shape for years. For instance, if you use headphones which have foam ears, they might start to tear up a little bit of the foam and might get thinner, making it feel uncomfortable when wearing. Then what should you do at that moment? First, replace the foam, which will start working correctly. You should not be rough with the headphones' Mic if you wish to make it last longer. However, be careful with how you treat it because that ensures the lifespan of your headphone.
Significant factors to focus on when buying a headphone with a mic
Not all the headphones you see in the market with Mic are what you need. So how will you understand what headphone is perfect for you? The choice and preference, though, depend on you; certain factors need to be considered while choosing to ensure that you don't make the wrong choice for yourself and waste money. Some of the most common factors that you need to consider while purchasing headphones with a mic are
?? Battery Life
If you're buying a new headphone, in case it is wired, you don't need to worry about the battery life; connect, plug it into your phone and take on your meeting with total energy. However, if you're buying a wireless model, you need to be sure that the battery life is considerably and comparatively long. So consider the battery life before making other decisions about the wireless model. Who would want their headphone's charge to go down within a few hours even if charging it fully? So one of the most important decisions you need to make before choosing your ideal headphone with a mic is to check the battery life of that.
?? Comfort
Another significant factor you need to consider while purchasing is comfort. A headset means that you will have to continue wearing it over your head for all the hours you'll be working. Some people might not like wearing them over their heads because they make them feel uncomfortable. However, a meeting might continue for a long time, and thus you might feel uncomfortable if your headphones are not good enough. So what can you do? You need to choose something that will make you feel comfortable while wearing it! There are headphones available in the market which are lightweight and super comfortable. All you need to do is search for them and try them if they are according to your preferences. Also, it should not make you feel uncomfortable after a while. The discomfort problem is why people often don't put on their headphones but rather hang them around their neck and use the microphone near the mouth. They listen to the audio through the speakers of the headphones. Thus, the audio does not reach the person correctly. Therefore you should search for comfortable headphones that do not echo what you are saying and are easy to wear for long extended working hours.
?? Price 
The price of headphones is one of the significant determinants of your buying. However, you also need to understand that headphones are expensive because of their exclusive features. You will not be able to access those features in any other regular headphones. Thus to have the ability to take complete pleasure in such facilities, you need to pay a nominal more price for them and buy them. However, there are good quality headphones at low-cost prices too. Therefore, if your criteria are not much and you want to try a headphone with a mic for the first time, for experience, it is preferred that you go for a low-cost one and, if you like it, move further with high-priced headphones with a mic.
?? Drivers
If you're finding it difficult to choose what headphones you should buy for yourself, a significant factor you should consider while choosing your headphones can be a determinant, The drivers. Before you choose what headphone you want to get for yourself, check if the headphone is ideal for you or not. Look for the features and benefits you will exclusively receive once on buying the headphone. Also, check whether the drivers are large enough or not. Now, do you know what the driver does? The drivers are the ones responsible for generating the sound. To ensure smooth communication, it is essential that not only what you are saying is heard by them, but what they are saying is heard by you too. Thus the drivers are essential because they make the volume louder, and you can hear it better. Not the golden rule but in most cases, the larger the driver, the better the sound quality.
?? Audio Quality and noise cancellation 
The audio quality is the reason behind determining how well the person on the other side will hear your voice. A high-quality microphone will make your voice sound clearer without any irritating background noise. No echo, humming, or any unwelcoming sound in your environment will be able to reach the ears of the opposite party. Good quality headphones greatly help reduce noise; however, they cannot eliminate them. So when deciding what headphones you should choose for your official meeting purposes, look for the microphone's audio quality. The microphone's audio quality will determine how transparent your clients will be to hearing your voice. The better the microphone quality, the better the audio. You might be confident enough in the meeting, but your microphone might not cooperate with you properly. Thus to be successful in the meeting and collect praise from everyone, make sure you choose a microphone with good audio quality.
?? Design and pattern
The design and the pattern of the headphone also has a significant influence on the choice of the person. If you like funky cool designs and buy them for gaming purposes, you will go for headphones of vibrant colours and excellent paintings. However, if you are buying them for office purposes, the more formal or single-colored headphones will be preferred by you. The gaming headphones are, however, much more fabulous. So, if you buy them primarily for gaming purposes, an excellent patterned headphone always works the best. However, in the case of office meetings and conferences, the more simple the headphone, the more professional it looks.
?? Sensitivity
Unwanted background noises coming into your calls and disturbing you are irritating. They Are annoying and disturb your professionalism and ruin your gaming or meeting sessions by breaking the attention of everyone. Here is why mic sensitivity is essential. The mic sensitivity Is responsible for absorbing the noise and then sending the rest to the others. When the mic sensitivity is high, it can absorb more of the noises. Even the low-quality, almost quiet conversations happening at a distance. On the other hand, if you choose a mic with low sensitivity, it will not be able to take up those distant conversations. Instead, it will only be able to catch loud enough voices like yours. Therefore, the best-preferred option is to choose a microphone with low sensitivity. They are ideal for meetings and gaming sessions as whatever is happening at a distance will remain there only, and neither you nor your teammates or clients will not be disturbed by them.
✨The best five picks for headphones with a mic✨
Bose Noise Cancelling Headphones 700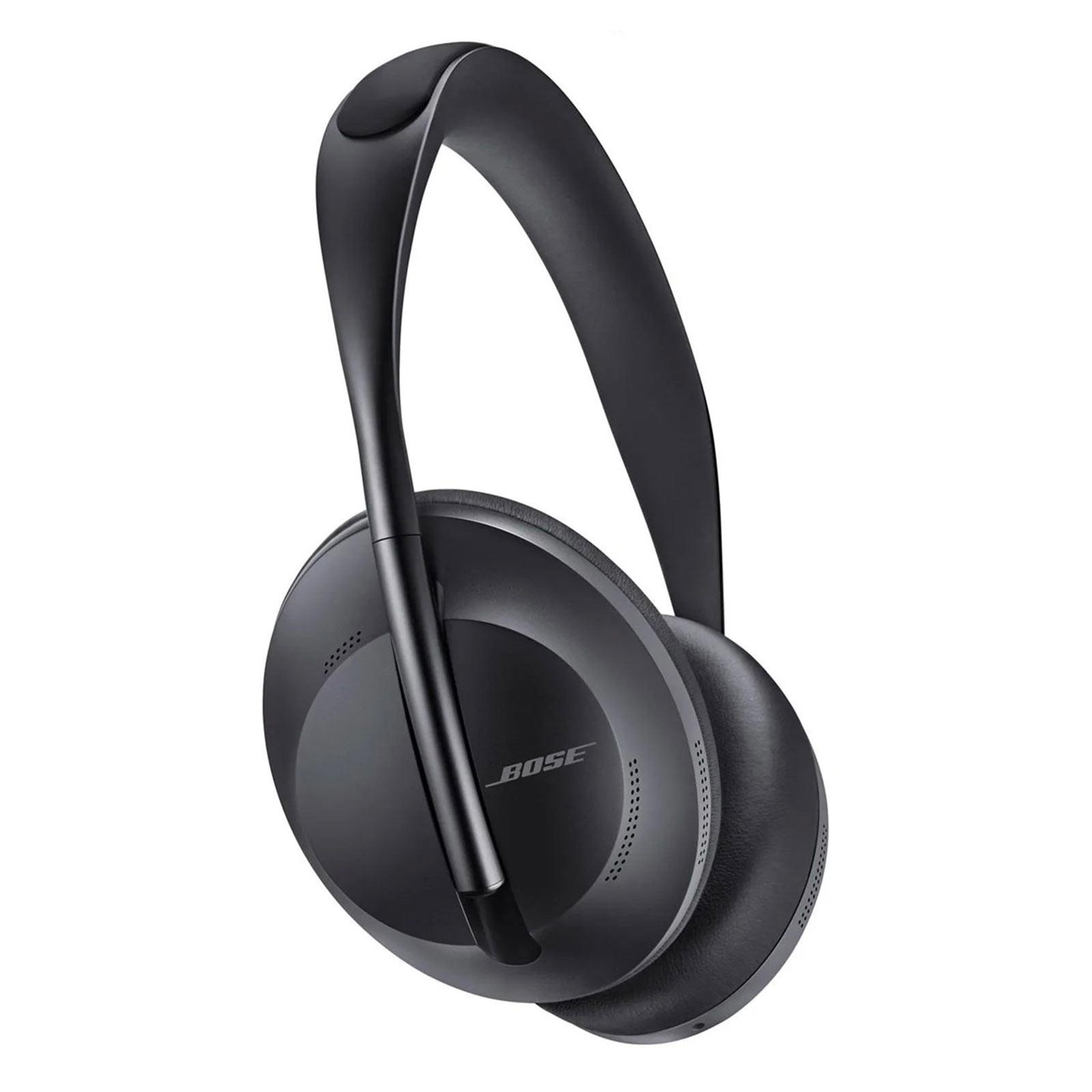 Bose Noise cancelling 700 over-ear headphones are new in the industry. However, if you prefer comfort over quality, this latest model could be your best friend because Bose is another name for comfortableness. This model has improved noise cancelling technology with four microphone systems that work together to aid good sound quality for you. It also allows you to pause the music for a quick chat with its Conversation mode. In addition, its Bluetooth connection is excellent.
Features
It has new acoustics and digital signal processing that run off with Bose's NC chips.

This model also has microphones inside and outside the ear cups and eleven levels of active noise cancelling.

Touch sensors on the right ear cups help you to manage volume, calls, and music without looking at your phone.

Even in less-than-ideal conditions, the revolutionary mic system works wonderfully.
?? Pros
Easy to use.

Twenty hours of playback time.

Ear cushions are great for long listening sessions.
?? Cons
Users need the Bose app to set up all the settings, which can irritate people.

Quite an expensive and overhyped product.
Price
$257.95
Our Verdict
If you are looking for an excellent over-ear headphone with a quality mic, Bose Noise Cancelling 700 has many features, from intuitive touch controls to unrivalled voice pick-ups that can make your work call easy.
_______________x_______________
SENNHEISER Momentum 3 Wireless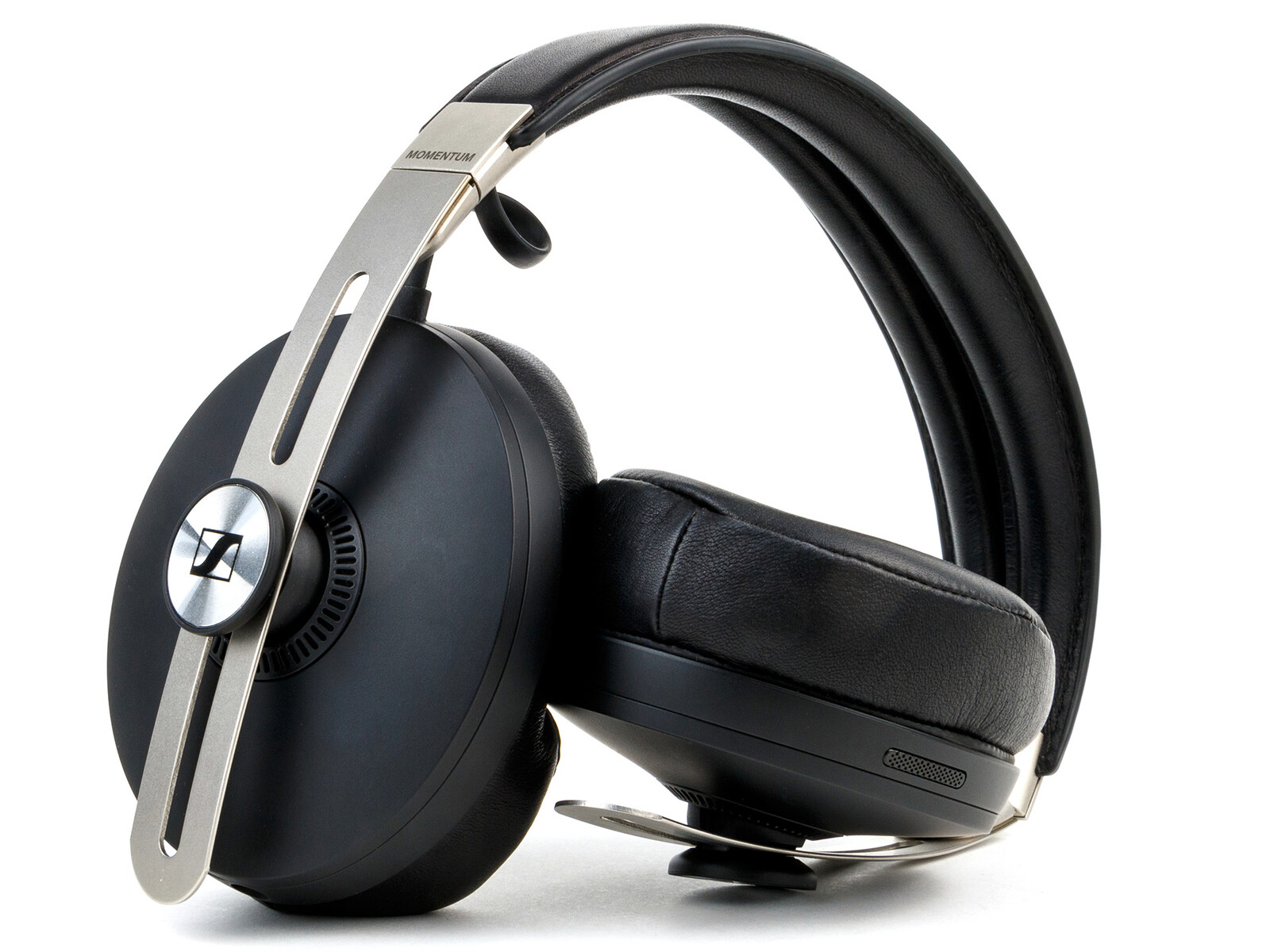 Sennheiser Momentum Wireless is a classy and premium piece that deserves second place on this list. This model is a solid all-rounder at this price. It is a third-generation over-ear headphone with plush sheepskin leather earpads, exclusive earcups, and stainless steel slider that make this product incredibly stylish. Therefore, the best part is that this headphone offers good music and is sonically gifted for anyone searching to use them for voice calls. This company also offers seamless integration with voice assistance. This efficient wireless headphone contains USB-C to USB- A adaptor, a USB-C cable, and a case.
Features
It has an auto on/off and an innovative pause feature that ensures you will never miss a bit.

With these headphones, you don't have to repair your device repeatedly.

This model also has a three-button interface that makes it easy to use for anyone.

Active noise cancellation and transparent hearing will ensure you indulge in your audio world.
?? Pros
Energetic and rhythm presentation and foldable.

Effective noise cancellation includes the Sennheiser Smart control app and Anti-wind mode.

It also supports Aptx Low Latency.
?? Cons
Battery life is not that great.

Doesn't connect to Apple TV. So a big no for apple users.
Price
$314
Our Verdict
If your primary concern is a simple and intuitive interface with few buttons, then this wireless headphone is a perfect choice. You won't need to go around with so many buttons while attending business meetings or office calls.
_______________x_______________
Panasonic True Wireless Earbuds RZ-S500W
Panasonic is an electronic brand known for years; however, this firm has finally moved into the wireless earbuds market with its exceptional innovation Panasonic RZ-S500W. It comes in two colours that offer small and discreet wireless earbuds. They are covered in smooth rubber and have a LED light on each pair to let you know about the pairing. It has Dual Hybrid Noise Cancelling, Feedback Forward, and Feedback noise cancelling with Analog and Digital to help you indulge yourself in your music world. This product contains a USB- C charger and a charging case. Earbuds are lightweight and comfortable and come in five earpiece sizes.
Features
It comes with an ambient mode to capture and amplify the surrounding noises.

This earbud also offers six high-performance twin beamforming microphones that ensure your voice quality during calls.

Panasonic earbuds have come up with a left-right independent signalling system which means each pair receives a dedicated signal, unlike others.

Lastly, it is IPX4 water resistant and has a unique antenna structure.
?? Pros
Battery life is pretty good

Supports six functions with Panasonic Audio Connect App

Provides stable connection even in crowded places and superb adaptive noise canceling.
?? Cons
The fit could be an issue for big ears.

Touch sensors are far too sensitive.
Price
$127
Our Verdict
This earbud is perfect for commuters, athletes, and remote workers of its MEMS microphones and 5000W that can suppress wind noise and enable your voice to come through loud and clear. At this price point, Panasonic has provided a good-featured earbud worth buying.
_______________x_______________
Shure AONIC Free True Wireless Earbuds
Regarding the microphone, audio professionals must have come across the name Shure, the maker of beloved microphones. As a result, they have come up with a decent pair of cable-free earbuds that are somewhat of a retro design and a great deal for those who can get past the slightly bulky case and earpieces. Its Comply foam ear tips perform the best for the bulk of isolation and stabilisation to lock those large earbuds in. If you are someone who prefers clear, deep bass and studio-quality sound that has been engineered for decades by experienced sound engineers, this could be a perfect pair for you.  This true wireless earbud has Bluetooth 5 wireless technology that gives a range of up to 30 feet, making this product outstanding. Also, the Bluetooth technology enhanced the stability. You can easily pair this with your phone, laptop, and tablet for music and calls.
Features
This product has passive sound isolation technology based on its professional in-ear stage monitors instead of active noise cancellation that can block up to 37dB.

The Environment Mode slider and PausePlus are the two essential features offered by Shure.

Its customizable EQ helps you choose presets or create your audio frequency.

This earbud has onboard tactile button commands for quick access to volume, playback, and calls.
?? Pros
Good Sound

ShurePlus Play App is very intuitive

Analytical and spacious
?? Cons
Quite bulky, can give a bit of headache after awhile

Big charging case
Price
$129
Our Verdict
This budget-friendly earbud is excellent for those who do not find large earbuds problematic.
_______________x_______________
JBL Quantum 300
Lastly, we have a brand that offers consumer or professional audio gear. JBL Quantum 300 is a mid-level over-ear gaming headset in the Quantum series hierarchy that a player needs to start. This product is not only optimised with PC but also compatible with PlayStation, Xbox, Mobile, mac, and VR through a 3.5mm jack. In addition, the built quality of this product is sturdy.
Features
It has JBL Quantum Engine PC software for immersive sound

This model also featured a flip-up boom microphone with echo calling technology that helps players focus on their teammate's voices instead of the background noise.

This device also has an option to mute/unmute directly from the device.

This headset's memory foam ear cushions are covered with soft PU leather, making it super comfortable for marathon sessions.
?? Pros
Lightweight

Comfortable wearing for an extended period of time

Budget-friendly
?? Cons
It does not have an active noise cancellation system

It can not be folded
Price
$59
Our Verdict
A gaming headset in this affordable range is a must-buy.
_______________x_______________
Conclusion
Now that you have a broad idea about what headphones you should choose, how to choose, and how to decide which headphones you should buy, what are you waiting for? Be conference ready with complete confidence and perfect headphone with a mic.