People are working and gaming from home in greater numbers than ever before. Your user experience can be significantly improved by choosing the proper headset. The price and functionality of gaming headsets make them perfect for uses other than gaming, and they have swiftly developed into sophisticated communication tools. With so many features and specifications available today, finding the correct headset can be challenging. 
What exactly is a gaming headset?
Although many different headsets are available, not all over-the-ear headphones qualify as gaming headsets. It is essential first to make a distinction between headphones and headsets. Headphones lack a microphone and any two-way communication features. Conversely, headsets offer features like built-in microphones and other functions to improve communication. Aside from the microphone, gaming headsets may include additional tactile buttons or noise-cancelling sound isolation. Gaming headphones have a similar look, with some featuring controllable RGB lights or shared logos and patterns.
Things to consider before purchasing a Good Gaming Headset

Choosing a gaming headset is similar to choosing any other technological item. Always decide what you'll utilize the headset for before taking further action. Specialized headsets might be a better option, depending on the games you enjoy playing or the various chat services you want to use. Understanding the many aspects of your headset will be much easier if you know how you intend to use it, which will also make the entire purchasing process more enjoyable. 


🎧 Build Quality

The build quality of your headset refers to its overall feel and sturdiness. Although it might not be mentioned on a headset's packaging or website, this function is undoubtedly one of the most crucial to consider before purchasing. Watch out for headphones on sale for a low price or marked down significantly, as these are frequently a clear indication that the product was made as inexpensively as possible. A headset of poor construction may function temporarily, but it is more likely to break down or cause issues in the future. Search for reputable headset brands that include premium cables or other accessories to ensure a high level of build quality easily.
🎧 Microphone
The microphone is a crucial distinguishing characteristic of a gaming headset. A dedicated recording device's quality will always surpass that of an attached microphone. But for most gamers out there, they represent a great economical alternative. There are several distinct varieties of microphones, each with advantages and disadvantages. Most frequently, omnidirectional or unidirectional microphones are included in gaming headsets. The primary distinction is how the microphones pick up sound in the two. An omnidirectional microphone will pick up sound from all directions, which is perfect for users who intend to use the headset in quiet situations with little outside sound or for groups of people. Unidirectional microphones are the most popular option because they only have one orientation. Due to their limited ability to take up sound from more than one direction, unidirectional microphones are the most common option.  In crowded spaces or homes where multiple people are playing video games at once, this helps to limit outside noise. Noise-cancelling technology and detachable or upgradeable microphones are further qualities to look for in a headset microphone.
🎧 Surround sound
The majority of surround sound headphones are intended for gaming. The many channels deliver a genuinely immersive experience, with multiple drivers retained in each of the ear pads. Surround sound is essential in FPS games, where knowing where the enemy is critical.  If positional audio isn't vital to a gamer and they want to enjoy the story, a stereo headset is a way to go. The distinction between a surround sound headset and a stereo headset is negligible. A surround sound headset may cause the sound to be distorted due to the many drivers. People frequently do not consider this. It could be the difference between life and death if that is important to you. 
🎧 Comfort

Comfort, often linked to build quality, is an essential gaming headset feature. Headsets, like heads, come in many forms and sizes. Finding the appropriate fit for you will guarantee that the headset is comfortable and that you can make the most of the headset's other capabilities. Some devices include adjustable components, such as head straps or different-sized ear cups, which can help tailor the headsets to your needs. Gamers who use glasses should carefully evaluate the comfort of their headset since certain ear cups or designs might make wearing glasses exceedingly uncomfortable. If you can't try on a headset before buying it, some excellent specifications to look for include the weight and size of the ear cups. 
🎧 Wired or Wireless?

Going wireless versus wired is one of the most frequent decisions gamers must make when selecting their next headset. While each has advantages and disadvantages of its own, understanding the differences can help you get the most use out of your next set of cans. Wired headphones are ideal for PC use. Excellent sound can be obtained via USB or the standard 3.5 mm connector. If you have the correct drivers installed, you could have some truly unforgettable experiences. Going wireless is generally advised only if you want to or are playing a console game. Wireless headset charging can be a hassle if you intend to play video games for an extended period of time. If that is not an issue, the disturbance wires can considerably influence your selection. 
🎧 Look for Unique Features
Headsets, like any other technology, have actual specs that can be used to compare different models. Aside from that, several brand-specific features or functionalities are available to help take your headset and gaming experience to the next level. Most of these features come at a premium price, but they are worthwhile for consumers with specific demands or special requirements. Examples of additional gaming headset features and their associated benefits are provided below.
Sound is crucial in certain games, particularly Esports titles. Hearing the right directional sound cues can significantly impact your gaming and be the difference between a win and a defeat. Noise isolation is a function in headsets that helps to focus on the music coming through the headphones by reducing outside noise. In most gaming headphones, there are two types of noise isolation:
Passive noise cancellation reduces outside sound bleed by leveraging physical design elements such as a closed-back or thick padding. 

Active noise cancelling is more sophisticated and expensive since the headset actively filters out background noise as it enters.

As a result, the headset produces the cleanest audio imaginable. When compared to a regular communication headset, both solutions are vastly superior.
The ease with which your headset can connect to various devices cannot be overstated. The more devices your headset supports, the more you will use it. Furthermore, how your headset connects to other devices might directly impact how you use it. Wired headsets have limitations such as wire length and reliability. On the other hand, wireless headphones can run out of battery or fail to keep a charge. All of these factors, and more, must be considered while examining the various connection types for your headset.
While not as crucial to some aspects, the appearance of your gaming headset is still an essential factor in your purchase decision. Excessive features or bizarre designs can make headsets uncomfortable to wear or to distract when used for streaming or video chats. Addressable RGB or swappable head straps, on the other hand, can assist in personalizing your headset and make it feel more like your own. In the end, the appearance of your headset is most important to you because you will be the one looking at it the most. If you find a headset you want, but it doesn't appear appealing, look into other possibilities from that company until you find something that does. Other accessories, such as keyboards, mice, and case fans, can occasionally be synced with headsets to create a more unified look for your PC system.
Top 10 Gaming headphones
❤️ Razer BlackShark V2 Pro ❤️
The BlackShark V2 Pro is ideal for competitive gaming due to its high-speed transmission and extremely low latency. It also has a best-in-class 2.4GHz wireless connection that provides lossless audio and ensures that it synchronizes with your game.
✨ Features:
Spatial Audio THX.

Noise Cancellation.

50mm TriForce Titanium drivers.

Detachable HyperClear Supercardioid microphone.
👍 Pros:
Wireless

Comfortable

Excellent sound

Outstanding microphone

THX Spatial Audio performs admirably.

Works nicely as non-gaming headphones as well. 
👎 Cons:
Worse isolation than standard BlackShark V2

Higher frequencies could be sharper.

It is not entirely compatible with consoles.

Charge through Micro-USB
Price:
119.99
Our Verdict:
The Razer BlackShark V2 Pro is a good option for wireless gaming. They are non-Bluetooth compatible with PCs and PS4 and PS5 consoles and have low latency. They're also comfy enough for extended gaming sessions. Their bass-heavy sound profile offers thump and punches to action-packed scenes, and if you want a different sound, the Razer Synapse programme has many tuning choices.
❤️ Corsair HS65 Surround ❤️
Corsair's HS line includes a wide range of headsets for gamers of different types. The Corsair HS65 SURROUND is the most expensive headset in this line, including software that allows for sound customization and surround sound.
✨ Features:
50mm neodymium drivers with custom tuning.

USB-A connector, 3.5mm in (via dongle).

Presets for EQ.

Surround Sound 7.1.
👍 Pros:
Outstanding microphone

Virtual surround sound (7.1)

Comfortable
👎 Cons:
Inadequate isolation

Ear pads do not completely seal.

The SoundID feature could be more impressive.

Polarizing sound profile
Price:
$79.99
Our Verdict:
The finest aspect of the Corsair HS65 Surround is its fantastic microphone, but the rest of the headset and its features leave plenty to be desired. The software is adequate, the headset needs to fit correctly, and something distinguishes this headset from the competition.
❤️ SteelSeries Arctis Nova Pro Wireless ❤️
The SteelSeries Arctis Nova Pro Wireless is a premium gaming headset that stands out for its audio quality, comfort, and design. It's one of the best we've tested for customizing your in-game audio, thanks to dual wireless capabilities and good software support.
✨ Features:
Audio in 3D.

Hot-swappable batteries.

Wireless Concurrent Connectivity.

Noise Cancellation Active.

Noise-cancelling microphone.
👍 Pros:
Excellent audio quality

DAC is a replacement battery dock that includes an amp and quick charging.

Battery swappable

Excellent spatial audio
👎 Cons:
It is challenging to utilize with consoles.

Leatherette may cause ear sweating.

The USB charging cable is situated inside the magnetic cover on the earcup. 

AI noise cancellation is currently lacking.
Price:
$349.99
Our Verdict:
 This is an undoubtedly quality headset that provides outstanding comfort and audio options. We particularly like the software's sound customization capabilities, but the ESS Sabre Quad-DAC delivers quality sound and great positional audio in your games.
❤️ Logitech G Pro X Wireless Lightspeed ❤️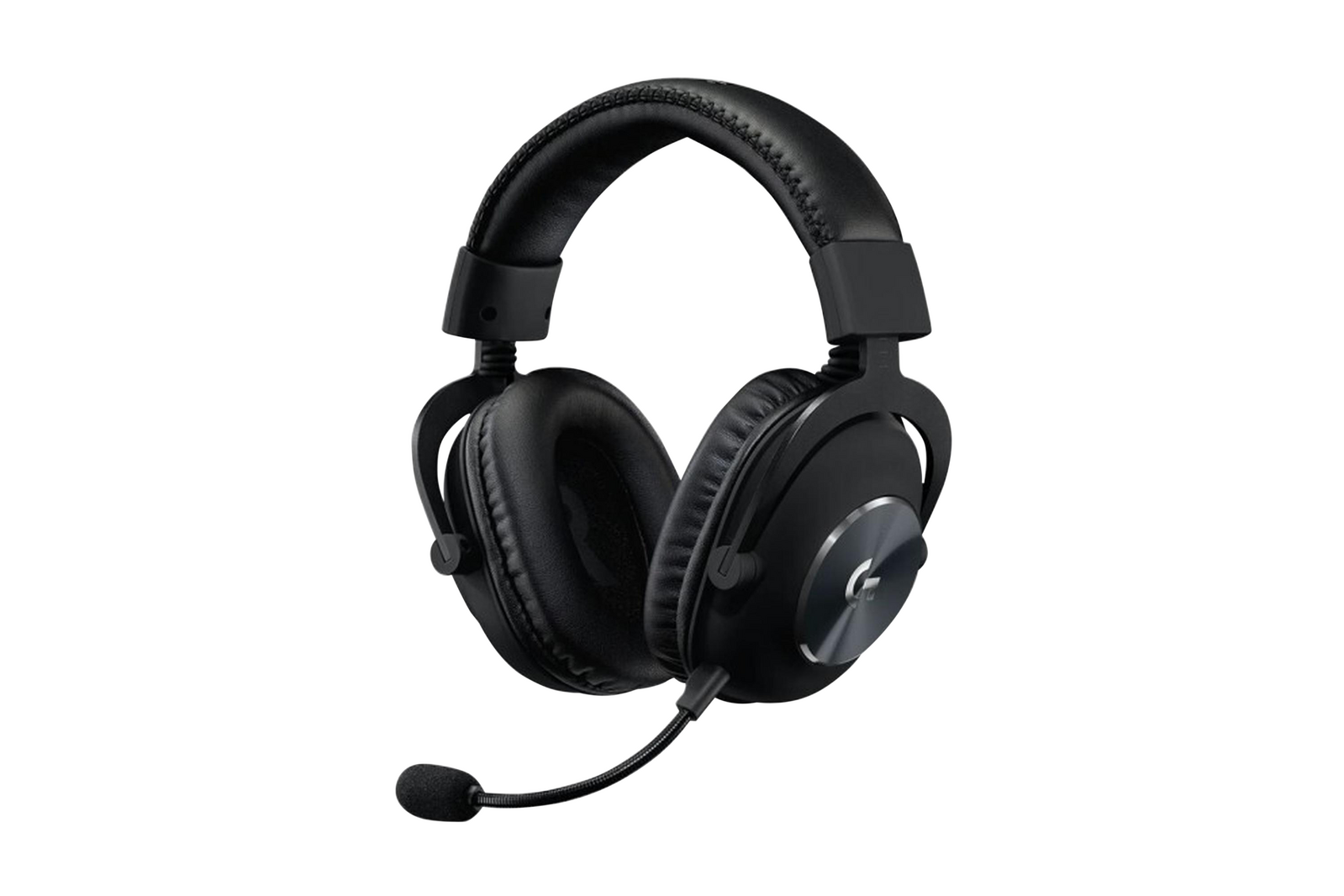 Latency is no longer an issue with wireless headphones, with products like the Logitech G Pro X Wireless setting a higher bar for wireless music. This is one of the most excellent gaming headsets available, providing wireless freedom, low latency, sturdy build quality, and, most importantly, fantastic sound.
✨ Features:
Battery life of up to 20 hours.

The mic is detachable and comes with a foam windscreen.

USB A to USB C charging cable, 1.8m
👍 Pros:
The durability of the battery

Blue Voice is truly useful software.

Excellent sound
👎 Cons:
Worse console experience

A little pricey
Price:
$229.99
Our verdict:
The Logitech G Pro X Lightspeed gaming headset is undoubtedly one of the best on the market, with superb sound quality and low latency. However, the high price and poor microphone may deter some customers.
❤️ HyperX Cloud Alpha ❤️
The HyperX Cloud Alpha was designed from the beginning with durability and comfort in mind.The band and forks are made of solid metal, and either strong joints or substantial padding protects every moving portion of the headset. 
✨ Features:
Drivers with two chambers.

Removable microphone.

Discord Audio is certified.

The cable is detachable.
👍 Pros:
enhanced appearance and comfort

Fully detachable cabling and more intelligent inline control placement

Excellent build quality

Outstanding audio quality
👎 Cons:
Lows are muddled.

Small peaks and troughs in the frequency curve

It costs more than the original Cloud and comes with fewer extras.

As it is not foldable, it can make travelling more difficult.
Price:
$199 
Our verdict:
The HyperX Cloud Alpha gaming headset is an excellent choice for all types of players. It offers several fantastic features that will take your gaming to the next level. The HyperX Cloud Alpha is dependable.
❤️ Astro A50 Gen 4 ❤️
The Astro A50 is an excellent choice for wireless gaming. Their wireless base station broadcasts audio with extremely minimal latency, and they are comfortable enough to wear for long periods of time.
✨ Features:
Dolby Audio.

It is compatible with PS4, Xbox One, Xbox 360, PS3, PC, and mobile devices.

5.8GHz wireless technology with MixAmp from Astro Audio.

Base station USB charging.
👍 Pros:
Dolby Audio sounds fantastic.

Exceptionally comfortable
👎 Cons:
Expensive

The edgy aesthetic
Price:
$299.99
Our Verdict:
Despite its lack of noise isolation and portability, the Astro A50 Gen 4 gaming headset delivers excellent audio quality and features in well-isolated areas.
❤️ HyperX Cloud Alpha Wireless ❤️
The HyperX Cloud Alpha Wireless are high-end gaming headphones available in 2022. They're the wireless version of the HyperX Cloud Alpha, a simple pair of over-ears released in 2017. They work with PCs and PlayStation consoles.
✨ Features:
2.4GHz wireless 

Discord and TeamSpeak certified microphone.

Spatial Audio DTS

Dongle for USB-A.

Charging cord that converts from USB A to USB C.

Microphone with a detachable boom.

Filter for pop music (boom cover)
👍 Pros:
Battery life is acceptable.

Excellent Sound quality

Great Comfort
👎 Cons:
NGenuity is that it is inconsistent.

The microphone may be louder.
Price:
$159.99
Our verdict:
The combination of a classic workhorse gaming headset and battery life that significantly outlasts the competition makes this a no-brainer for anyone who has ever experienced the agony of a dead battery at the start of a gaming session. It could be better, but 300 hours is 300 hours.
❤️ SteelSeries Arctis Nova 7 Wireless ❤️
The new SteelSeries Arctis Nova series outperforms its predecessor, ushering in the next generation of Arctis headsets that sound better and have more features than previous models. This includes the mid-range SteelSeries Arctis Nova 7 Wireless, which has excellent sound quality, a long battery life, a new attractive yet comfortable design, and a comprehensive feature set.
✨ Features:
Wireless 2.4GHz.

Bluetooth.

3.5mm drivers are used.

Microsoft Spatial Sound / Tempest 3D audio for PS5, with Sonar app tweaks
👍 Pros:
Battery life of 38 hours

Fully retractable microphone

Bluetooth and 2.4GHz connections are active at the same time.

Just as comfortable as the Pro

Compatibility between platforms

Excellent software
👎 Cons:
The audio quality could be better, but not exceptional.

The mic is still a flaw.

The dongle raises the same port-blocking concerns as all current USB-C-based receivers.
Price:
$159.99
Our Verdict:
The SteelSeries Arctis Nova 7 is a revamp of one of the company's most popular headsets while retaining comfort and ease of use. The headset sounds better than the Arctis 7's previous excursion, but it still needs improvement. This is a decent alternative at a fair price that works almost anywhere.
❤️ Turtle Beach Stealth 700 Gen 2 Max ❤️
The Turtle Beach Stealth 700 Gen 2 sets a new quality standard for the veteran headset manufacturer. This headset gives good value, a durable build, a great soundstage, and appears fashionable and subtle, all while being as easy to wear as it is to pair with your tech.
✨ Features:
Bluetooth. Wireless 2.4GHz.

Wireless Xbox.

Flip-mic.

Dolby Atmos surround sound.

Wireless Simultaneous Connectivity.

Most platforms are supported.

ProSpecs include
👍 Pros: 
Excellent sound quality

There are two types of wireless connectivity.

Battery life is doubled over the previous generation.

Excellent microphone sensitivity.
👎 Cons:
A snug fit

Unpredictable volume levels

The design needs to be more reliant on plastic.

In some cases, the sound profile can become muddy.
Price:
$199.95
Our Verdict:
 The Turtle Beach Stealth 700 Gen 2 is an excellent piece of equipment to add to your line-up because of its amazing battery life, reasonable pricing for the range, and cutting-edge features.
❤️ Corsair HS55 Wireless Core ❤️
With its on-the-fly EQ preset settings, lightweight design, wireless connectivity with a 50ft signal range, and good 24-hour battery life, the Corsair HS55 Wireless Core has all the makings of a gaming headset that's perfect for gaming on the go.
✨ Features:
The wireless frequency is 2.4GHz.

Bluetooth.

Mute-to-mute omnidirectional flip.

Dolby Audio 7.1 support for PC and Mac.
👍 Pros:
Bluetooth and 2.4GHz wireless are supported.

Battery life is adequate.

Quick charging.

Profiles for the onboard EQ.
👎 Cons:
 

The bass is bloated and boomy.

Need more software support.

There is no simultaneous audio.

Comfortable enough.
Price:
$99.99
Our Verdict:
In terms of sound quality, it is applauded Corsair's attempts to provide digital surround sound. Though this headset sounds more intimate than expansive, which isn't ideal for a large soundstage, it excels at spatial audio. The sound quality is good, with many basses and a decent high-end.
Gaming headphones include various unique features that might differ significantly between brands. These qualities can sometimes sway your decision in favour of a specific headset. However, they will almost always be minor improvements targeted at improving the daily use of the gadget. Tactile buttons on the headset or wires for muting the microphone, altering levels, or switching audio sources are examples of such functionality. More luxurious features can include wired and wireless technology that works together or magnetic swappable parts for simple maintenance and upgrades. Assume that durability is crucial to you. In that situation, features such as repairability or swappable parts can extend the life of your device by years. Choosing a gaming headset these days is simple, but finding a quality, affordable headset ideal for you can take time and effort. By determining how you intend to use the headset, you may better comprehend the many specs offered and make an informed choice that is suited for you. Modern headsets, whether wired or wireless, can come with a slew of extra functions that can quickly drive up the device's price and may not be necessary for your purposes. Take your time and consider how each specification and feature will affect your user experience. Sure, gamers may benefit more than others from these extra features. Knowing the platform and connection type you intend to utilize will help you avoid overpaying or underpaying your next gaming headset.