What does one want after a long, hectic, stressful day at work? A bit of relaxation, probably! Is it too much to ask for? It's certainly not. Now it is time to say goodbye to your tiring days and have a relaxing, peaceful sleep. Listening to music can reduce your anxiety and let you have a peaceful sleep, but you might know something even better than that. You must have heard from your friends about ASMR. But do you know properly what ASMR is and how it helps you? You might know about it already but are searching for the perfect pair of headphones you can use to listen to your ASMR Videos. Look no further because, in this article, you will get all your required information about what to consider when purchasing the perfect ASMR headphone and some of the best suggestions for ASMR headphones.
✨ What is ASMR? 
Autonomous Sensory Meridian Response, commonly known to people as ASMR, is a euphoric sensation that is felt by many people when they watch a certain type of stimulating video. It is generally a perpetual condition in which the audio-visual stimuli, the ASMR triggers, are used to produce an intense and pleasurable tingling feeling in the head. Specifically beginning on the scalp region, then moving down the back portion of the neck and upper spine, and then secondarily moving on the periphery of the entire body. These are triggering stimuli. The ASMR videos often are socially intimate and involve recurring happenings of sounds or movements such as whispering, watching someone brush their hair, eating their food, and many more. ASMR videos have gained high popularity across all social media platforms and YouTube. People have widely acknowledged it since 2010. Ever since then, the communities producing ASMR videos have increased. People who watch ASMR videos have found them addictive and can be used to calm themselves down.
? Top 8 major factors to consider when buying an ASMR headphone
There are great headphones available in the market these days, so how will you be able to determine which headphones you need? Mentioned below are some of the requisites that you need to consider when choosing the perfect one for yourself :
?Comfort
One of the most important factors you need to look for while searching for the perfect ASMR headphone is checking the comfort level. The headphone should be comfortable even if worn for a long period. So you must make sure that the headphone you are choosing fits you well and is lightweight, so your head doesn't feel too heavy even after wearing them for hours. The best ASMR headphones would have the perfect hold. It should neither be too tight or constructed nor too Loose. The ideal ASMR should give you ultimate comfort whether you wear it for 5 minutes or 5 hours.
? Sound quality
When considering sound quality, there are certain essential factors that you need to know. The sound leakage and the frequency response of the headphones are the two most essential things you need to look into. The frequency response refers to the good range reproduced by the headphones set and how accurately those sounds would be heard across various frequencies within that same spectrum. To enjoy the ASMR video properly, you need a good bass. It would help because many ASMR artists whisper very slowly in their videos. The audio qualities are of such a low frequency that only a good headphone will be able to produce the sound. Furthermore, sound leakage is the problem whereby the headphones let the sound escape from the ear cups, and nearby people will be able to hear them. A person near you might or might not like what you are hearing. That's why when you look for the ideal ASMR headphone, ensure that it has a good frequency response and can also prevent noise leakage.
? Style
Nowadays, the modern market has a wide spectrum of options for everything. You can choose according to your taste and preference as every style is available. And that is why you can find your favorite type or brand of headphones available in different sizes, shapes, designs, colors, and many more. So when finding your ideal headphone, never compromise. Some people prefer the on-ear headphones, others prefer the over-ear headphones, and some like the earbuds. These days for ASMR videos, every kind of headphone is available. Thus it would help if you found yourself a headphone that you think is comfortable for yourself and can be suitable to compliment your look.
? Ultimate Noise-Cancelation
Another essential factor that you should consider is noise isolation. Your ultimate ASMR headphone should be capable of blocking out the excessive unwanted external noises as much as possible and focusing on the sounds in the video that you are speaking with without any other distraction. Your headphones should be able to reduce ambient noises and should be designed for good sound insulation. Another important part is the active noise cancellation. In ASMR videos, the most important part is the minute sounds available; other external sounds might distract you from focusing on the original video. A good noise cancellation technology helps to enhance the listening experience of the user. No unwanted noises will be able to reach the person and distract them, and thus the person could enjoy the very essence of the sound of the video exclusively.
?Durability and longevity
The durability and longevity of the ASMR headphones also play a major role in determining the selection of your headphone. When spending money on your headphones, you should consider their durability while buying them. Since headphones are a little expensive, you should be confident enough when purchasing that the headphones will last long. If they have a short life, your entire investment will go in vain. And you will again have to make another purchase. Eventually, you will have to spend double for the same thing. Therefore, to ensure that the headphone has a long life, make sure that you check the materials from which it is made up, its cable, the type, and other essentials used in making the headphone. By checking all these, you will be able to ascertain the average lifespan of the headphone. Also, check if it has some warranty with it or not. A warranty ensures that if anything goes wrong with the headphone naturally, you will be able to exchange them.
?Connectivity
Another important feature you should look for in your ASMR headphone is connectivity. It is determined whether the headphone is a Bluetooth type or a wired one. Some headphones also have the feature of supporting both wired as well as Bluetooth connectivity. Bluetooth headphones are usually great because you don't have to worry about the wires getting tangled together, and you have the freedom to move around without worrying about the limitation of the length of the wire or that the wires might get tangled up with each other. However, the charging factor of the Bluetooth headphones might be troublesome. You need to charge them from time to time to use them freely. It would help if you charged them from time to time to use them freely. If you forget to charge them one night, you might not be able to use them the next. This disadvantage of Bluetooth headphones is an advantage of wired headphones. Just connect them and use them freely without worrying about charging them. Another benefit of wired headphones is that the data packets wirelessly have to travel through the airy medium in Bluetooth headphones. However, you get direct access to the sound in the case of wired headphones without any medium in between.
? Weight
Wearing it for a long period of time should not make your head or ears feel heavy. For instance, suppose you were constantly wearing your headphones for six hours a day; your ears should not certainly start hurting because of the bulky or heavy headphones you purchased for yourself. In most cases, the in-ear headphones you will see are lightweight. However, when buying the over-the-ear kind of headphones, make sure that you check if it is adjustable and if the ear cups are big enough to fit your ears in it comfortably. If they are not comfortable and easygoing enough, they might make your ears hurt after wearing them for a long time. The weight of the headphone is thus one of the essential requisites in determining if you will be able to wear them for a long period and whether you should buy them or not.
?Impedance
When choosing an ASMR or any other headphone you want, impedance should be one of the key factors in determining what you should purchase. It refers to the measurement of the quantity of power your headphone will need to produce the required sound output that can be audible by the human ears. The measurement of impedances is done in terms of ohms. It can also be said to be the level of volume at which a person starts hearing the sound from their headphones. Now you must want to choose a headphone with a higher impedance. But even when doing so, be careful. It should not hurt your ears or cause damage to it. If you plug in your headphones with a greater impedance into your phone, your phone might not be able to produce the necessary power to generate a decent sound from the headphones you wish to achieve.
?The Best six ASMR headphones ?
? Grado SR80e Prestige Series Headphones ?
Grado is the popular name for the best open-back headphones in price range and quality. This product is an excellent choice for those looking for ASMR headphones but on the affordable side. This headphone has a retro aesthetic look with an all-black color scheme. In addition, it comes with perfectly round ear cups with attached foam pads that deliver a decent level of comfort. The thin headband is not too bulky, and it is moderately portable. Grado SR 80 E has a rubber cable that is thick, sturdy, and 2m long. The frequency response consistency is commendable, and the bass delivery is excellent. Therefore, it does not have any active components, and thus no battery is required.
✨ Features
This model produces a warm and dynamic sound while remaining soft for its textured midrange.
It has an open supra-aural open back that looks extremely classy, and the ear cups are entirely rotatable.
This headphone is also equipped with very high-quality transducers that increase voice clarity to another level and consistent treble delivery.
This exclusive headphone has a mini plug termination and a 1/4 inch adapter.
? Pros
The on-ear design does not feel tight on your head.
Above average, open sound reproduction
? Cons
It does not provide the most relaxed sound
It does feel cheap and does not feel durable because of the plastic joints.
? Price
$100
Our Verdict
Grado SR 80 e is the breathable option as it does not block much airflow for its open-back earcups design. You could try this if you are looking for an above-average neutral listening headphone for classical songs on a budget-friendly option.
_______________x_______________
? SENNHEISER HD 599 Open Back Headphone  ?
Sennheiser has been producing top-notch audio equipment and characterized as an overall darker sound for 70 years. Their HD 599 open-back headphones provide a natural and spatial performance, which makes them perfect for your ASMR listening needs. It is a comfortable fit for their large oval ear cups and headbands that are amply well-padded and do not feel too tight on the head and ears. The great part of Sennheiser's premium headphone is that it does not cause fatigue if you wear them for long hours. This piece has adequate stability means it should stay in place for casual listening hours, and the build quality is decent.
✨ Features
This model has multiple connectivity options. It comes with a robust 3-meter detachable cable and 6.3-millimeter jack, and an additional 1.2-meter detachable cable with 3.5 millimeters Jack making it perfect for phones, laptops, and tablets.
This over-ear headphone has an aluminum voice coil that delivers high frequency, excellent dynamics, and extremely low distortion during listening to ASMR.
This headphone also brings high-end proprietary Sennheiser transducers.
Its bass and treble frequency are very consistent.
? Pros
It is comfortable and lightweight
This product also has a robust and durable design
Audiophile sound is excellent, and it has a detachable cable
? Cons
The adapter is somewhat clunky.
It does leak a lot of sounds.
It is bulky, so it does not fold easily
? Price
$149
Our Verdict
For a casual listening purpose, this headphone is great. Though, it is not recommended for activity hours. You can choose this pair if you are okay with slight sound distortion and leakage.
_______________x_______________
? TOZO T10 Bluetooth 5.3 Wireless Earbuds ?
The following ASMR headphones are a pair of high-quality stereo earbuds from TOZO. It is a straightforward-looking small, truly wireless earbud with a physical button covered in a plastic coating with a glossy black small ring. The ergonomic in-ear design makes this a perfect fit for the ear shape. The ear tips are soft and silicon-based to provide the users with the utmost comfort. In addition, these earbuds also come with four different sizes of ear tips. If you find the right ear tips for your pair, it will not be going to fall, no matter what you do. TOZO T10 Bluetooth is portable, stable, and has fantastic build quality. It also has a surprisingly good noise isolation system that can passively block background noise. These earbuds' mid-level accuracy is decent, which helps vocals and lead instruments from getting too overpowered and drowned out by the bass.
✨ Features
It has come with a compact and easy-to-use design.
This product features advanced Bluetooth 5.3 technology that supports HSP HFP A2DP AVRCP for instant pairing and stable connection.
The low latency improves the sound while listening to ASMR.
Lastly, it has a built-in microphone and impressive recording quality.
? Pros
It is IPX8 water resistant.
The wireless charging nano-coating case protects the buds from damage.
It is durable
? Cons
Each bud might fail to stay connected to each other sometime.
Battery life is disappointing, and no touch controls.
? Price
$21.99
Our Verdict
It would be a perfect choice for ASMR headphones for the sound reproduction is exceptionally vivid. Moreover, if you are a gym or sports person, it can be a valuable model to experience the tones from the powerful bass, smooth mids, and crisp highs.
_______________x_______________
? Samsung Galaxy Buds Plus ?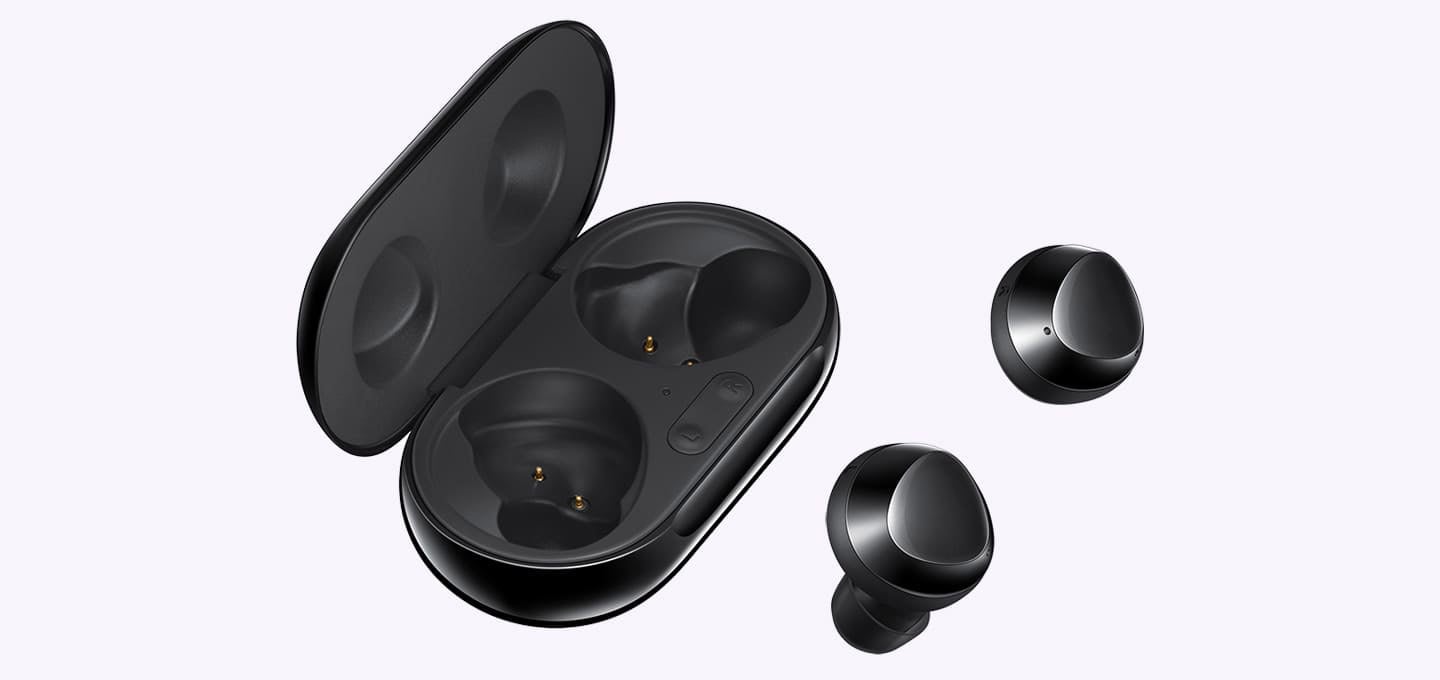 Samsung has been in the headphones market for over the years now. So, there is no doubt at all about what they are offering or what they are releasing in the market. You can blindly trust them regarding electronic gadgets, especially headphones and earbuds. This company has come with wireless earbuds, the newer and improved version of the old Galaxy Buds Truly Wireless. It is a versatile pair that does not protrude from the ear because of its small size. The charging case looks premium and is made of solid, high-quality plastic, so there is no chance of damage. In addition, this compact design headphone has Qi wireless charging and is IPX4 water and sweat-resistant.
✨ Features
It provides a well-balanced sound profile that is well suited for a wide variety of content and genre.
This product has dedicated internal and two external microphones that can pick up your voice and isolate the noise with an adaptive dual microphone.
This closed-back earbud provides an outstanding frequency consistency response.
The 5.0 Bluetooth provides a stable connection at home or on the go.
? Pros
It is sturdy
The battery life is great, so you can get up to 11 hours of continuous music with a single charge.
It is compact and lightweight, so you can just take it anywhere.
? Cons
The touch control scheme is a bit hard to use.
This model does not have auto-resume playback.
? Price
$116
Our Verdict
This model can be the perfect alternative for Airpods for android users. So, if you are here for cool, glossy finish earbuds, then we must say Samsung Galaxy Buds Plus is a compelling buy for you.
_______________x_______________
? AcousticSheep SleepPhones Classic ?
Now, it's time to talk about the most comfortable headphones in our top 6 list. And it has to be the AcousticSheep SleepPhones Headphones, a headband with built-in speakers. This comfortable option is available in five color options. You will never feel like wearing headphones if you are a side sleeper. The speakers are placed in well-padded inside soft fabric. So they do not put heavy pressure on your ears.
✨ Features
This product comes with a two-fabric option: breeze fabric and fleece fabric.
This headphone has a thin speaker that is not uncomfortable at all
The headband has an audio control module for every purpose, including play, pause track, and volume control.
? Pros
It is a washable machine product
This model is comfortable in all positions while sleeping
It comes in two versions: wired and wireless.
? Cons
No indicator of battery level.
It is not the best for gaming, music, or anything else as it does not have an Active Noise Cancellation (ANC) system.
The cord gets tangled all the time if you get the wired one.
? Price
$39
Our Verdict
This wired headphone is excellent for travel, yoga, and many more, but also it can beat insomnia and stress naturally. Though it is not a budget-friendly option, if you are looking for comfortable headphones with breathable fabric, this is your right choice.
_______________x_______________
? Fulext Sleep Headphones Bluetooth Headband ?
For those who are not into wired headphones, we got an option for you too. The Fulext Sleep Headphones is a wireless product with an adjustable band to ensure a snug fit. This headband is made with ultra-thin, breathable fabric, breathable mesh lining, and a durable braided cord to provide you with the utmost comfort while sleeping. You can find seven color options for this stretchable fit headband. It has a 0.25-inch slim speaker, making it comfortable for side sleepers.
✨Features
Active Noise Cancellation Technology blocks out the exterior noise to another level.
The built-in microphone will never let you miss your call.
This model also comes with True HD HIFI sound featuring the latest wireless technology that produces great sound quality.
It can run for 10 hours, including talk time and audio playtime, with the help of 2 hours charge.
? Pros
It is compatible with Android and Ios
The volume control facility is great
It is a washable machine product
? Cons
Sound quality is not that good for ASMR compared to the other headbands in this list.
The battery does not run long after 2-3 months.
? Price
$19.99
Our Verdict
This headband is perfect for gym, workout, running, yoga, and other outdoor activities. Additionally, its stretchable feature makes it suitable for most head sizes and is incredibly soft and hypoallergenic.
_______________x_______________
Conclusion
Now that you have a wide range of ideas about some of the best ASMR headphones, among which you can choose from and how to choose the ideal type for yourself, why not go by these ideas and buy one for yourself? Try it and see how these ideas turn out as a magical spell for your next purchase. If you like our article, share it with your friends and family, so they never again face any hurdles while choosing the ideal type of headphones for themselves.