Noise-cancellation headphones have become a huge thing in recent years. They have completely transformed the headphone industry and introduced more and more people to the joy of staying in touch with music and communication while on the go or while multitasking. It has made professional work easier and of greater quality. These days you can carry an entire studio in one device. To understand why noise cancellation headphones are so important and how you can make the most of them, first have to know what noise cancellation actually is.
What is noise cancellation?
Noise cancellation refers to the ability of headphones to block out background noise and focus on the audio that is being presented to the user through the headphones themselves. Noise cancellation has many advantages as we will know very soon. This phenomenon is usually based on wave phase cancellation, which is a clever method to turn audio out of phase or inverted from one face to another so that two different wave fronts can cancel each other out.
Advantages of noise cancellation
Noise cancellation has tremendous advantages for professionals as well as amateur enthusiasts. As long as your noise cancelling headphones are built of great quality they will be able to provide these desired results. These days active noise cancelling is considered to be the best quality of noise cancellation. But from noise cancellation, there are also other types of headphones like ambient sound headphones and sound isolation headphones. A majority of headphones these days offer a spectrum across which you can cancel noise, meaning you can also mute the surroundings without completely blocking them out.
👉 Better focus
A lot of people are destined to suffer a lack of focus when their surroundings interrupt and steal their concentration. Many people who suffer from focus disorders like ADHD are unable to work in noisy surroundings because of this reason. Noise cancellation in today's date is essential for achieving a state of flow. Especially if you are working with audio and consider yourself to be an audio expert or professional, you will inevitably be asking for an audio input that does not distract you through its background noise.
👉 Clear communication in noisy surroundings
Clear communications are very important to make sure that decisions are taken easily and speedily. It is very possible that while traveling even if it is for official reasons you will still need to keep in contact with your peers. Noise cancellation makes clear communication in noisy surroundings possible and effective both from the receiver's and the sender's point of view. Communication needs to be clear and nonverbal communication like tone and accent to also make their way properly to the receiver.
👉 Better sound quality
It is a matter of simple logic that in the absence of external noise audio quality is automatically improved. Therefore only noise cancelling headphones can provide you with the best sound quality for anything that you are working on. No matter if you are an audio professional, musician, athlete, amateur enthusiast, gamer, or student, you need to experience the best quality of sound for any audio if it is something you fancy doing.
👉 Premium quality contemporary experience
Noise cancelling headphones give you an understanding of premium quality contemporary audio experience. These days great music pieces are made in such a way that they can be experienced using contemporary headsets. Therefore any audio professional would need to purchase these headsets so that they can have the complete experience.
The ultimate buying guide for noise cancelling headphones
Latest look at what you need to keep in mind while buying headphones that can cancel noise.
🎧 Noise cancelling vs sound isolation
There are various levels of noise cancellation. Mute the external noise so that you can hear it in the background but not get disturbed by it. Other people prefer complete noise cancellation so that they can focus in a studio setting. Complete noise cancellation can be very dangerous if you are in a public situation, however. This is why it is important to know what kind of noise cancellation or isolation you require and if you need to work on different levels so that you can purchase a headset that gives you the ability to set your own level of cancellation.
🎧 Comfort
Since you are so sincere about purchasing a good headset it can also be easily assumed that you want to use it for long hours and get actual productive work done from it. Headsets that are not comfortable will not let you work properly because you will experience physical discomfort and mental frustration daily. However, it is also often possible that you feel comfortable on the first try but over time it doesn't work for you. This is why it is more important to rely on scientific explanations of the engineering and design of a headphone rather than your simple one-time experience.
🎧 Durability
Noise cancelling headphones are quite expensive. Is a state-of-the-art technology and it is not possible to afford these headphones again and again, at least for the general public. Therefore these headsets need to be durable so that they can withstand the rugged rough use that you put them through and still last for at least more than a few years. Durability comes when premium-grade products are used for the preparation of the headphone both its software and hardware results. Moreover, durability also depends on the nature of the design itself since some designs are made to be more flexible than others. Similarly, it is possible that a headphone has excellent external durability but the sound quality is deteriorating over time. All these things need to be taken into consideration before the purchase of any headset.
🎧 Sound quality
The noise cancelling feature has no value if the sound quality is not great. It is for this reason that it is important to choose a headphone that has excellent sound quality that can match the excellent noise cancelling feature. The sound quality will depend on various bass and treble levels, frequencies, and drivers to produce the optimal result. Therefore, it is important to look into these matters before someone is choosing a certain headset as their own.
🎧 Battery
Most noise cancelling headphones are Bluetooth. This means they are wireless and are intended for use outside of the home or office setting. Since most of us only cancel noise when we are in the presence of others, having a wireless headset is also important so that the two features can match each other. These days a good quality battery life for premium grade headsets is considered to be around 50 to 60 hours or complete charge. This means at a 10 to 15 minute charge should easily provide you with a 4 to 5-hour battery life. A lot of the time what happens is that the battery starts draining too quickly and the noise cancellation feature is actually on. This is definitely not what we want from our headsets so it is important to look into this matter before purchasing your headphone set. Moreover battery life not only should be long but the battery itself should be durable. The rechargeable battery gets ruined very
quickly which means you will have to repair or replace your headsets within a couple of years.
🔥 5 Top noise cancelling headphones of 2023 🔥
❤️ Philips noise cancelling Bluetooth headphone❤️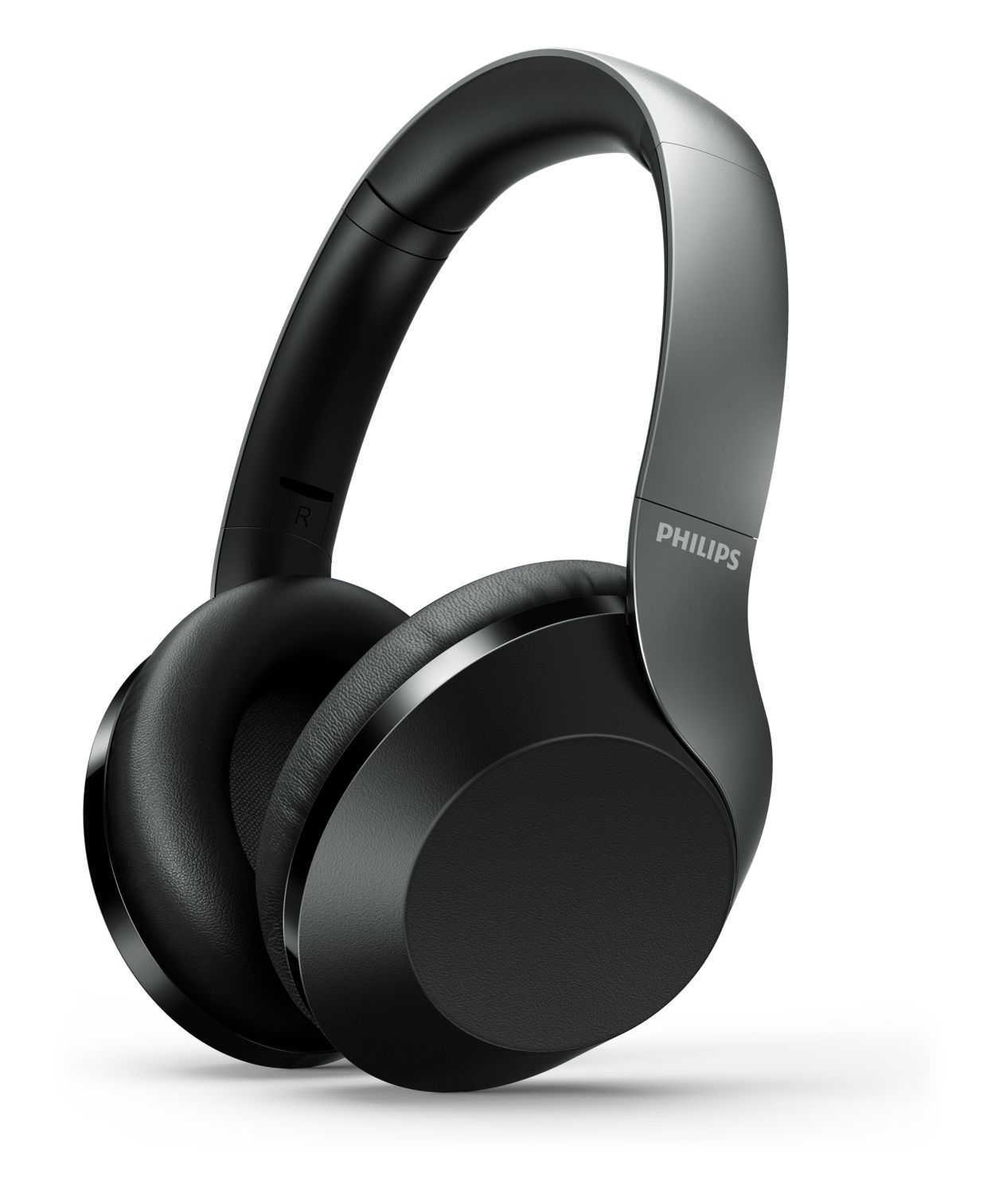 Philips is a premium quality brand that specializes in creating a versatile range of headphone and ear plug devices that have every imaginable facility. This headphone has many features that make it awesome.
✨ Feature
● The lightweight comfortable structure makes it compatible with long-term use.
● Clear detachable microphone for gaming and communication.
● Stereo headphones which mean they give professional quality 40 mm drivers sound output.
● Excellent memory foam padding with headband padding.
● Durable with some customers climbing that these headsets can last around a decade.
👍 Pros
● One of the best noise cancellation features is a multipoint cancellation with a blockage of ambient sounds.
● Can maintain a study Bluetooth connectivity along with a study microphone during hectic traveling. The microphone also offers noise cancellation.
● 55 hours of playtime with an 800 mAh rechargeable battery.
👎 Cons
● Beyond the budget of many beginner buyers and students.
● Takes a long 2-hour charging time.
● The over-the-ear headset might not be suitable for all professions.
💰 Price:
159.99 USD
Our verdict
This is an all-rounder headset for those who work with audio for a living. The only drawback to these headsets is the extravagant price; if this price is not a consideration, then we have presented you with the best headset right at the beginning of this list!
❤️ Bose Quietcomfort 45 ❤️
Another premium-quality headset that is designed for multiple uses is Bose 45. This headset is one of the most durable products you can ever find and uses high and raw materials in each part of its build.
✨ Features
● Automatic noise cancellation in which mic sensitization is used to measure, compare and adjust to outside noise.
● Comes with a compatible Bose music app that enables you to change and personalize advanced audio settings.
● Offers high-quality sound isolation and ambient noise feature.
● You can set your specifications like bass, midrange, and treble levels.
● Explicit comfort is offered by the over-ear design and memory foam cushioning on the ears and the headbands.
👍 Pros
● Audio personalization is possible at an advanced level using the music app.
● Durable structure with high and raw materials that makes these pairs last for decades.
● Offers a cable along with the wireless feature which can be used in certain settings to maximize battery power.
👎 Cons
● Only offers a 25-hour battery life and it takes 15 minutes to charge up to 3 hours of battery life.
● One of the most expensive headsets available for the noise cancellation feature.
● Some old versions of devices can have problems with compatibility with these headphones
💰 Price:
199 USD
Our verdict
When you are paying for Bose, you are guarantee yourself set of headphones that can be put to the roughest possible use. This is a luxury grade professional set of noise cancelling headphones which we recommend for those who ardently require a multipurpose noise cancelling stereo headset that can handle the everyday as well as emergency situations.
❤️ Skullcandy Crusher Evo ❤️
This is a multipurpose headset with lightning-fast receptivity and a multipurpose design. It can be used during light exercise and travel as both the Bluetooth connectivity and the user comfort allows these headphones to be used optimally in external surroundings. On top of that, it has a uniquely compelling aesthetic design.
✨ Features
● Wide range of compatibility with almost every device including IOS and Android.
● Allows extra bass tech settings for the best audio quality for personal use.
● 40-hour battery life on a single charge which makes it excellent for traveling.
● Cute aesthetic design that will match the day-to-day life of the young generation and make it a suitable choice for public use.
● Has a long-term warranty of 1 year and a Tile Tech app that tracks your device in case you have misplaced it.
👍 Pros
● Extra quick batteries that last super long and a 10-minute charge can give up to 4 hours of hardcore gaming.
● Works with a bass slider which allows users to work on a wide spectrum of bass levels.
● Excellent comfort with thickly padded form question year pads and headband with multiple fittings to make it suitable for all head sizes and shapes.
👎 Cons
● Compatibility issues with some devices.
● Sound quality can be better.
● Does not have active noise cancelling features.
💰 Price:
149.00 USD
Our verdict
These headsets are specially made for gaming and intense study sessions. They can be used for creative work as well as exercise that is amateur or professional. If you are looking for any headset for the above uses this is the one to go with.
❤️ Apple Airpods pro 2nd Gen ❤️
Apple never disappoints when it comes to the quality of its products. They have a unique way of working and come up with interesting engineering concepts such as the spatial audio and adaptive transparency of these earplugs.
✨ Features
● characteristic airpods design suitable for professional use as well as casual use. Design to maximize long term comfort in spite of being an in ear earphone.
● Secure engineering that fastens the earphones to the year during tumultuous journey.
● smart AI noise cancellation during audio calls and virtual meetings.
● exclusive software technology to enhance user experience in Apple devices that any other noise cancelling headphone cannot compare with.
👍 Pros
● Active noise canceling feature leads to the most accurate and automatic noise canceling that you can ever experience. At the same time, you can keep your headphones open to intense noises like sirens or horns.
● Allows you to adjust the volume on an advanced level using advanced software audio settings.
● One of the best sound qualities that you can expect from any headphone with the noise cancellation feature.
👎 Cons
● Only lasts for up to 6 hours in battery once noise cancellation is on.
● Plug in earphones which can be harmful for long-term use.
● Is not compatible with any other device that does not support IOS.
💰 Price:
146.99 USD
Our verdict
If you use predominantly Apple products then this is definitely the AirPods that you should choose. However, for any other device, you will have to get separate devices.
❤️ Beats ❤️
These are studio headphones designed for noise cancellation with class 1 Bluetooth so that you can use them everywhere. They are pure adaptive noise cancelling without causing any harm to your health.
✨ Features
● They prevent hearing damage as they are built especially for people who cannot deal with loud noises.
● They come in attractive color variations so that you can enjoy looking good while feeling good as well.
● They use the over-ear design to maximize comfort while also making it easy to work in various postures and communicate without any frustration.
● They provide memory foam ear cushioning as well as softly padded headbands. The beautiful design makes it an innovative noise cancelling headset for professionals.
👍 Pros
● Excellent comfort as this is definitely a plus point of these headphones.
● Compatible on all devices but very very suited for apple and IOS products.
● Stable Bluetooth that offers furious possible dropouts during listening or conversation.
👎 Cons
● 22 hours of battery life alone and at a 10-minute charge can only give three hours of play.
● The battery drains very quickly when noise cancellation is on. This means the 22 hours of battery life does not last 22 hours if noise cancellation is switched on for the entirety of that time.
● Does not optimize the music according to the surroundings.
💰 Price:
209.49 USD
Our verdict
Even though this headphone is also on the more expensive side, they are made for professional use. Not just audio professionals or people working in the multimedia industry, if you find yourself playing high- quality games or want to create your own music this is definitely the headphone you should go for.
Conclusion
Noise cancelling headphones can help you focus better and change the entire experience you have with music and audio itself. Many of these headphones come with noise cancellation in the mic as well, which makes sure your communications are clear and without any misinterpretation or lag on your part. Noise cancelling headphones will evolve and the facilities that appear to be so increasingly futuristic today will indeed become outdated very soon. This is why instead of keeping the focus on buying something that is the most advanced, the focus should be on getting a headset that meets our individual needs so that we can continue to be satisfied with it when new technology evolves.