Our ever-increasing digital life has led millions of people today to adopt a lifestyle of constantly wearing glasses. This could be due to medical reasons or simply to fight off-screen glare. For many people wearing glasses is also an aesthetic choice. Several times, wearing glasses makes using other accessories on our faces like headphones and masks quite difficult. This is especially the case for on-ear headphones since they cover the entire ear region leaving no place for our glasses to rest. The good news is, there are so many great quality headphones available in the market designed especially for people like us. So much so that making the correct choice has actually become difficult. In this article, we will talk about the essential factors which make on-ear headphones for glass wearers a successful choice, and then go on to list our 5 top favorites.
The benefits of buying  on-ear headphones which are compatible with glasses
The benefits of wearing headphones with your glasses are quite self-explanatory. Yet there are some other great points that you might be missing. Some benefits of wearing your headphones with your glasses are such.
✅ Helping you focus more
The combination of headphones that provide noise cancellation features with glasses that give enhanced readability is indeed deadly for your competitors. Noise cancellation and good quality focus music will increase your productivity without causing extra stress. For people who wear glasses for long periods or need to do so to save themselves from screen glare, using these features becomes virtually impossible without headphones built especially for people who wear glasses.
✅ Save your ears from physical stress
As a person who wears glasses, you are well aware of the amount of stress your eyes and ears go through regularly. Plug-in earphones are deadlier for your ear canals since they expose you to direct and loud sound waves without allowing them to echo out properly. This can cause mental fatigue and for a long-term period, even auditory problems. Therefore, as a person who wears glasses, even though initially you may prefer plug-in earphones, their cons will soon outweigh their benefits.
✅ Reduce eye fatigue
Scientific studies claim eye fatigue has a positive relationship with stress and mental exhaustion. So, when you invest in screen protection glasses along with good quality headphones you are working against fatigue at two levels. Number one, you are eliminating the issues your eyes face from screen time, and number two, the proper relaxation that your brain needs to keep stress and exhaustion at bay. For students and professionals who were primarily on their devices, the benefit of this can not be stated enough.
✅ Wearing them outdoors
Have you ever heard of sunscreen for your eyes? If you are someone who spends the majority of their day out of doors, you probably have. Your eyes need as much protection from brilliant sunlight as they do from bright device screens. Wearing sunglasses along with headphones is more than just a style option for many people. Again, if you are planning to kickstart an online presence as an outdoor coach or fitness blogger, for you this is both.
✅ Protecting your temples
It is true most of the time we can just manage to wriggle our glasses in with our regular headphones. But the pressure this will exert on your temples and sides is exponential. Protecting your head and keeping it as comfortable as possible is indeed an understated part of maintaining day-to-day physical health. In fact, if you touch your temples now, you will find some tension in your muscles from everyday stress. This is one of the primary reasons why investing in headphones especially built for spectacles compatibility is crucial.
✅ Distributing pressure
Not only do good quality on-ear glasses compatible headphones save your face and head from unnecessary added pressure. But on-ear headphones are also known to distribute the pressure around the area to cause extra relaxation. These headphones can even distribute the pressure already caused by your glasses on your head and ears. Therefore, buying headphones that are compatible with spectacles can actually be not that bad of an idea!
✅ Tips and tricks to make wearing headphones with glasses easier
There are certain ways in which you can make wearing glasses with headphones more comfortable in your day-to-day life. While some of these may require you to invest in a few simple tools, most only depend on good techniques and routines to make your experience an enjoyable one.
✅ Always adjust the clamp
Adjusting the clamp makes a big difference in the pressure exerted on your head by your headphones. A very tight clamp can even break your glasses after long-term use. Always adjust the clamp before using your headphones and try to gauge at what stage your optimal comfort lies. Overstretching your headphones can break them, so it is a good idea to try on adjustable headsets and see how they fit you before actually making a purchase. Sometimes, metal bands on the headsets can be bent to achieve maximum comfort, but this must be done with great care.
✅ Take appropriate breaks
No one can stress this enough. The best way to save yourself from all the pain that your headphones are causing is to use them for short periods at a time while taking appropriate breaks in the middle. When you are very busy, this break may amount to taking off either your headphones or your glasses. But when pressure is low the better idea would be to take both of them off completely and close your eyes to take a rest. Spending time away from screens and loud music is so important. You can use this time to go on a walk or take a nap.
✅ Wear thinner frames
This type is so simple that almost everyone overlooks it. While pairing your headphones with glasses make sure the frame of your glasses is thin enough to not make a difference. Metal frames and stemless reading glasses are so good for this purpose. There are many frames available that advertise themselves to be headphone friendly. Wearing thinner frames means lesser pressure on your temples and therefore lesser stress.
✅ Buy the correct headphones
This is a no-brainer since it is exactly what you are here for. And indeed looking for the right headphones which are compatible with your glasses is all about comparing different attributes and facilities to choose the one that you find to be your best friend. Buying digital devices is all about doing tons of research. The correct headphones will last long not only because of their durability feature but also because of the amount of comfort they provide.
✅ Head massages and relaxing spa
A great way to dissipate the stress and anxiety caused by our daily lives while also rejuvenating our senses (in this case also our temples and forehead) from the stress caused by digital devices is a good head massage. You can always treat yourself with something extra like aromatic therapy or a refreshing head spa. These will clear your muscular tension and also give you a new weekend obsession to look forward to.
✅ Mental cleansing and meditation
Mental cleaning and meditation are equally effective methods to clear mental exhaustion and rejuvenate our minds for the next day. Our muscle memory has a constant connection with our mental state. So, clearing our minds from stress can relieve our muscles from similar rigidity and tension. Meditation can have a similar effect in reducing destruction and generating higher awareness for our bodies and muscles.
✅ Exercise when and how you can
Exercise keeps muscles in the best shape and releases shoulder and neck tension along with the stress tension on our temples. The benefits of exercise range from mental to physical to emotional, all of which contribute to extra productivity and decreased discomfort during work hours. This can include simple works to complex aerobics, from yoga to weights workouts – has a direct benefit on how your head feels.
? The ultimate buying guide for headphones compatible with glasses
The main factors to focus on while buying headphones that are compatible with your glass frames are listed in this segment of the article one by one. Some of these are essentials for a good build, why leathers are customer specific.
? Adjustable headbands
Since clamp adjustment is individual-specific and very necessary for people who wear glasses, you absolutely cannot afford to buy headphones that do not offer a wide range of adjustability. Not only must the headbands be adjustable but they should also be strong enough to withstand frequent readjustment. Adjustable headbands with metal strands can actually be beneficial as they bend to give a customized shape.
? Great noise cancellation
This is a general criterion for your headphones that you cannot overlook. Great noise cancellation means you will be able to focus more on your work and not be distracted by your surroundings. Mostly good noise cancellation also means good quality audio. If you do not like complete noise cancellation, you can go for noise isolation features which offer the ability to isolate noise without making it completely unavailable. These are better for outdoor wear.
?Awesome sound quality
Good sound quality with the correct balance of different sound wave frequencies, while there is no compromise on volume or pitch, is necessary for a positive experience. There are wonderful spectacles-compatible headphones out there that have professional-level sound quality. Especially, if you are a streamer or musician, good sound quality is what you are looking for at the end of the day.
? Thick ear pads with good quality cushioning
The material with which your ear padding is made up also has a direct impact on how much pressure your face and head are receiving. Ear pads also act as a buffer zone and can also dissipate the pressure caused by your spectacles. With the correct ear pads, you can afford to increase the pressure without it hurting your skull. The ear padding is available as foam, leather, pleather, and Velux. Velux and foam are much software and therefore better for people who are wearing glasses.
? On-ear headphones are better than over-ear or in-ear headphones
On your headphones are the headphones whose ear padding lies directly over your ears. This is the reason why their cat clamping force is usually much weaker. At the same time, your glasses can rest over these headphones and do not cause any added pressure. Size matters when it comes to on-ear headphones weight. They are already designed to balance out their weight and distribute it as evenly as possible. Over-ear headphones are much heavier and can start exerting weight on your head.
? Bluetooth connectivity
The wider the range of Bluetooth connectivity, the better will be your experience. Not only must connectivity be wide-ranging but it also must be equally constant and speedy. Your Bluetooth connectivity will also only be positive if it has a long battery life to complement itself. If Bluetooth is a huge necessity for you as a user, you should be looking forward to some in-depth research in these fields.
? Headband padding
Headband padding provides an extra level of weight distribution and added comfort. For those people who have always complained of having too big or too small of a head, headband padding can also mean better fitting. On top of that, if you plan to wear your headphones for a long time every day, headband padding will provide you with the extra comfort that you are looking for.
The top 5 headphones which can be worn with glasses
It is now time to look at the seven best headphones which have nailed spectacles compatibility. Which headphones are best to be worn with glasses? Your search ends here.
– Sony WH-1000XM4 –
These headphones are over-ear Bluetooth connectivity noise canceling headphones built especially for people who wear glasses. They are made to work for long hours and provide comfort that can allow you to do the same. They have in-built mikes and detection poses that can detect when you remove the headphones from your head.
✅ Pros
Built-in detection for playback posing when headphones are removed
Touch sensor controls and voice controls are available
Automatically reduces the volume when conversations are happening.
30-hour long battery life
⛔ Cons
Over-ear headphones do not suit everybody
Quite expensive
Price
$199.99
Our review
These are premium headphones from a premium quality brand. They deliver exactly what they promise. Sony is known for headphones whose durability lasts for decades. Moreover, these headphones will not start lacking a few of their features mid-use. For customers looking to invest in an expensive set that can last forever, this is the best option.
_______________x_______________
– Bose QuietComfort 35 –
These headphones designed by Bose are another premium quality set that has a padded headband and extensive adjustment capabilities. They are built specially to provide the ultimate comfort. They can be worn with glasses or a face mask. They connect with Bluetooth and provide Alexa voice control features. They also come with a 12-inch USB cable.
✅ Pros
They have a dual microphones system which works as noise cancellation
It has a long Bluetooth range
20-hour battery life
Bose Connect app control feature to adjust noise cancellation, audio sharing, and Bluetooth connectivity.
⛔ Cons
They are premium quality headphones that are expensive
They have an IPX4 rating
Price
$299.99
Our review
These headphones can safely be considered to be the overall best choice for people who wear glasses. They come in three color options black, silver and blue. Manufacturers have used top-quality materials for the greatest comfort. They are lightweight and fit very well on all head shapes and sizes.
_______________x_______________
– Razer Kraken V3 –
These headphones are wired-on-ear headsets that are considered to be one of the best headsets for gaming and streaming. They have premium quality leatherette memory foam cushions attached to their ear padding for the most comfortable on-ear support. The mike provided with these headphones are of very good quality with hyper clear input and are detachable in times of need.
✅ Pros
Balanced impedance
Affordable price point
Provide sound isolation and good sound echo features
Have RGB lighting on the sides
⛔ Cons
No Bluetooth facility
Haptics sounds need to be better handled
On-ear headphones might feel like a rough try for people with sensitive ear lobes.
Price
$99
Our review
These headphones cannot be beaten by any other model when it comes to desk usage. The USB cable is strong and long enough for everyday use. The headphones are highly durable and can last many years, while the cable can be replaced easily in case of an accident. They are one of the cheapest premium quality headphones available in the market, even for wired solutions.
_______________x_______________
 – Audio Technica ATH –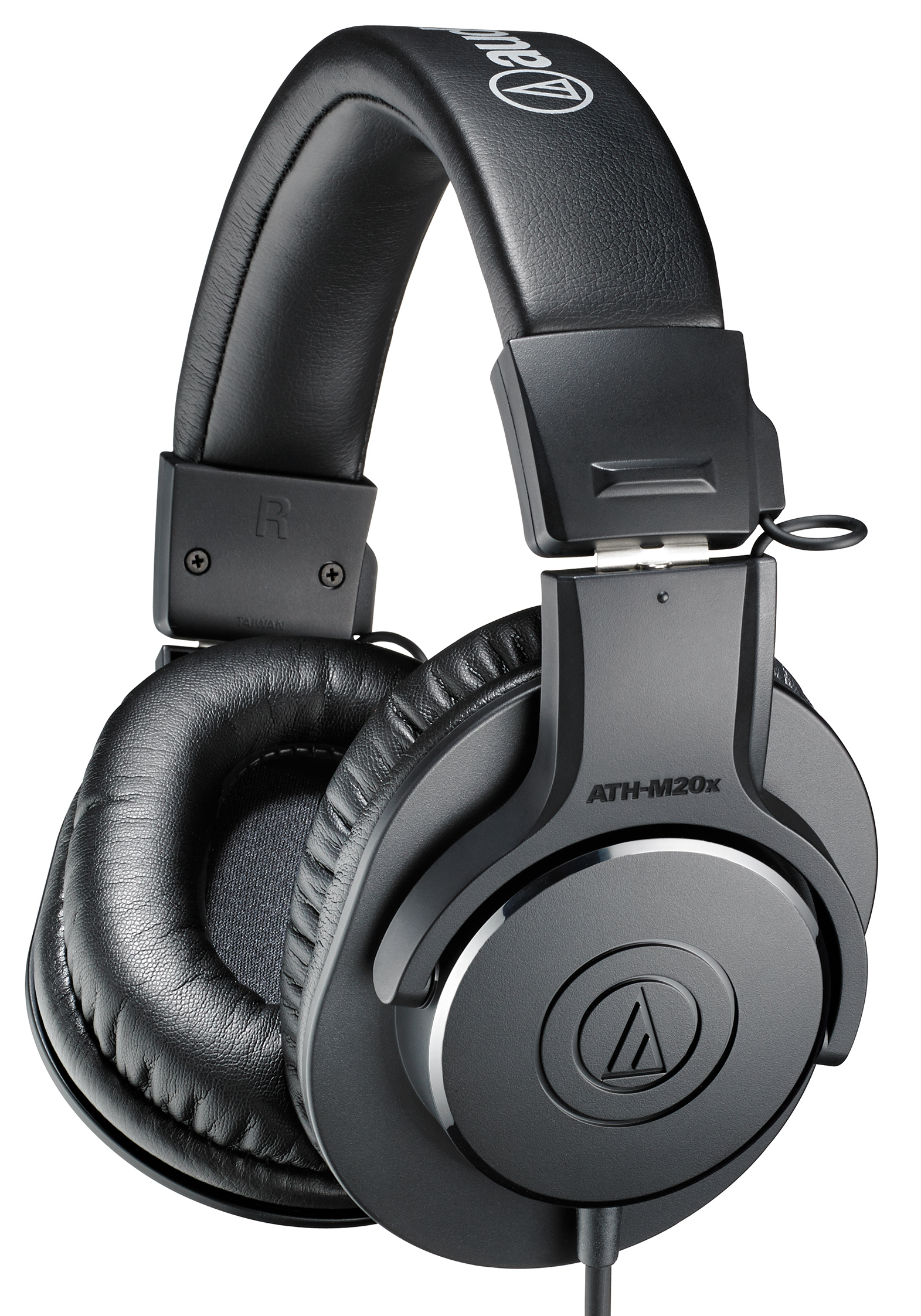 These are over-ear, hi-resolution headphones that enable Bluetooth and NFC connectivity. They are compatible not only with all digital devices but also with all major codecs. These headphones come with a 45 mm driver which automatically ensures high-resolution audio up to 40000-hertz frequency. They are foldable and are designed specially to provide users the ability to rest their glasses on the headset.
✅Pros
Memory foam year padding with adjustable headband
Foldable headphones which come in a great quality case
30 hours battery
Speedy Bluetooth pairing
⛔ Cons
Over-ear but a bit small
Not bass-heavy, but provides a great neutral sound stage.
 Price
$189.99
Our review
Provide the best sound quality that can be expected in the price range. They are built using premium quality materials and the sound quality is pretty high. They come with a long USB cable and carry bag. They are available in three shades. Can be paired with literally any device.
_______________x_______________
– SENNHEISER PXC 550-II –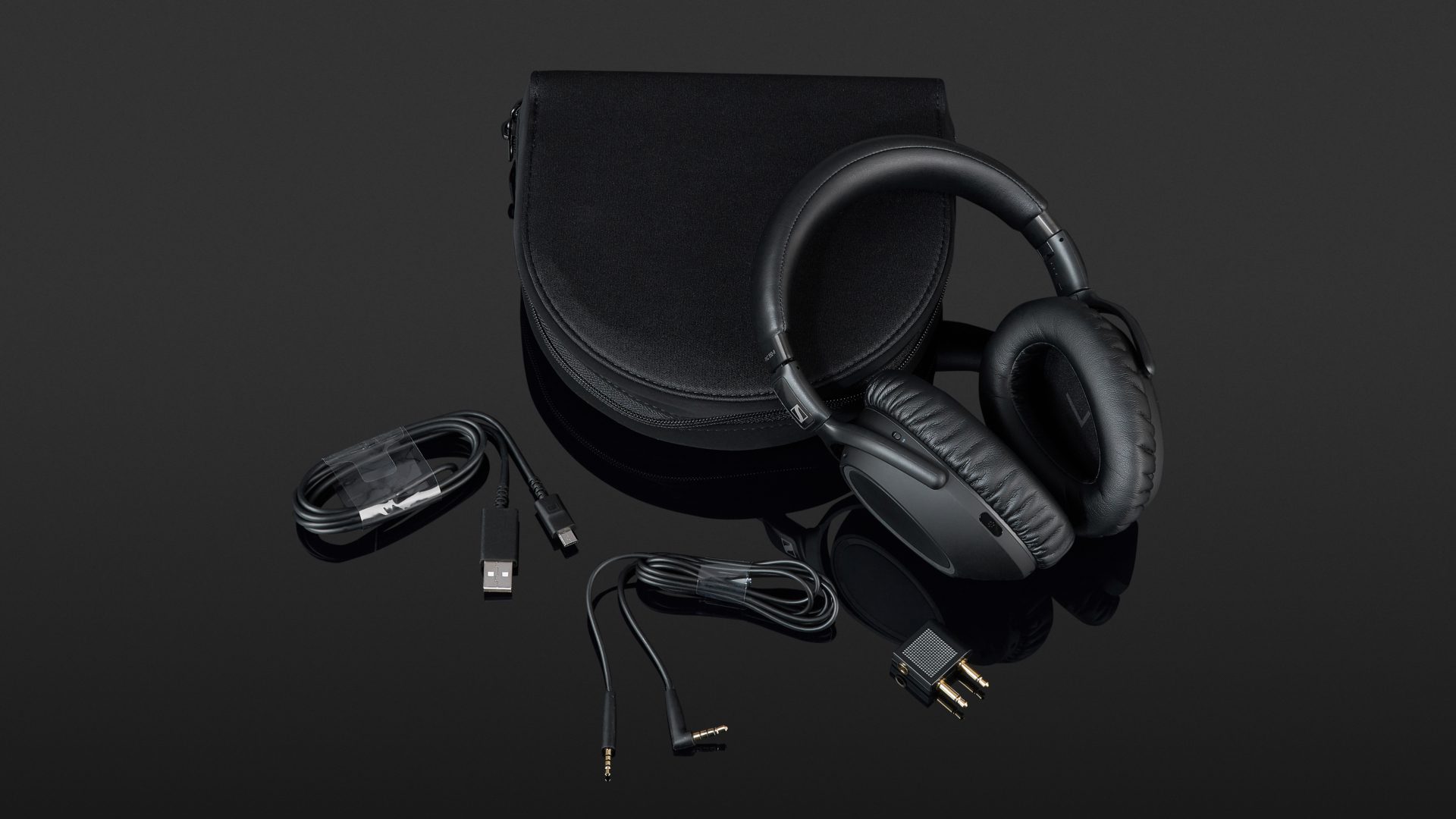 Another big brand name on this list is one more headset designed over the ear, but with special care towards people who wear glasses. They have an on-point noise active cancellation feature with a one-touch voice assistance program. They are one of the best on this list for air travel. They are extremely lightweight and can be used for over half a day without any trouble. Voice assistant connectivity is offered with Alexa, Siri, and Google.
✅Pros
Another model which offers a smart cause detection facility
Sensory pad control for volume, play stop and pause, and track skip.
Can be used both as a Bluetooth and a wired headset
Over 22 hours of battery life
⛔ Cons
Some users have faced model durability issues
It has a micro-USB port
Noise cancellation can be better.
Price
$240.50
Our Review
These headphones come with everything you can possibly wish for, including a USB charging cable, carry case, audio cable, and flight adaptor. They allow extensive headband adjustment and are one of the most comfortable in terms of ear padding. Like most headphones on this list, they provide a great quality microphone for one touch voice call system.
_______________x_______________
Conclusion
The pain and discomfort that wearing headphones with glasses can cause an individual starts to interfere with their everyday life. But thankfully, that misery ends here. With a few tweaks in your equipment and routine, you can easily transform your headphone experience into a more positive and practical venture.