Open-back headphones can be a significant upgrade from your current headset as it uplifts our everyday music experience to a new arena. Open-back headphones differ in many ways from close-back headphones, although they both come in various budgets. Open-back headsets come in Bluetooth and wired versions too, but it is not true that they are any more comfortable than closed-back headphones. The comfort depends more on the materials used in making the headphone and how well it fits you. This article will explore the seven best open-back headphones, which will definitely change how you view headphone-based music.
What is the mechanism behind open-back headphones?
Open-back headphones are certain kinds of headphones that have an open rear end. So it is while looking at your headphones and seeing that area around your ears where the speakers are is open, i.e., covered only with a mesh, if at all. Many people usually prefer open-back headphones for several reasons, the most important being the excellent quality audio output they can provide. However, open-back headphones behave slightly differently than closed-back headphones simply because of how they are built.
 When should you get open-back headphones?
In what conditions are open-back headphones the best option for you? Let us look at some situations where buying an open-back headset is the best you can do for yourself.
?To stop resonances from happening
Resonance is a common issue often encountered with users of closed-back headphones. It causes unnecessary sound echo within the headphones, which is not the best for all kinds of music. In addition, this headphone blends and blurs different musical notes together, creating a chaotic effect. Getting rid of resonance can be the first step for most people who want to enjoy crisp and clear music. Open-back headphones allow it to pass through the open rear, so no echoing occurs.
 ?To stop low-frequency build-ups
Low-frequency build-ups are another problem commonly encountered by people who use closed-back headphones. The building up of low-frequency currents further reduces the quality of music and blurs the clarity over a long period of time. It also damages the continuous experience associated with the headphones and, after one time, the headphones themselves. Investing in a good quality open-back headset can save you from these issues if you are a professional or amateur music enthusiast.
  ?Analytical Listening
Since open-back headphones are designed for better music emission, they are preferred by those who want to perform analytical listening of audio clips. Add electrical listening is easy when the audio has no resonance going on. With an open-back headset, you will be able to capture more information in an audio clip, and you would be able to with any other form of headphones. Most professionals working with different kinds of audio prefer open-back headphones as their tools.
? Mixing and matching
If you are a professional amateur enthusiast incredibly involved in music, mixing and matching will become a lot easier and more fun with open-back headphones. You no longer have to worry about missing crucial cues since open-back headphones accentuate the cues and balance out the highs and lows of each musical number. Balanced audio during music creation is super important to use musical preferences as an output for your audience instead of getting confused by its presence at the beginning of the process.
? Clarity
We have discussed this in this article before, but the significant popularity that draws users to open-back headphones is definitely the clarity these pairs provide. Firstly open-back headphones have an incentive over closed-back ones because of the ability to let air escape. Secondly, due to demand, open-back headphones now include other facilities to increase their audio clarity as well. Many of them are made especially to omit any excessive bass or saturation.
?High-quality critical music
Like with audio professionals working with official audio files, even musicians prefer open-back headphones over close-to-back ones because they make it easy to operate on music. Moreover, for sound technicians and cinematographers, the critical analysis of music and other theatrical files becomes much easier when they use an open-back set of headphones. The best way to approach technical sound and audio education as a beginner is to perches open-back headphones that focus on clarity and accentuation of individual music parts.
Are open-back headphones good for every situation?
Open-back headphones are not the best choice in every situation, however, Open-back headphones give clear audio, but because of the same reason, they don't prove to be the most enjoyable. So open-back headphones are not for you if you want headphones for partying or vacations. Open-back headphones are also not the most excellent choice when looking for headphones for outside work. Open-back headphones do not work in public settings and should not be used by people who want to use headphones during shopping, driving, swimming, or gym. The last two also forget the use of open-back headphones because even if these headphones are waterproof, it is easier for them to absorb water into their essential parts. Open-back headphones are also more fragile than closed-back headphones and are not the most preferred if you intend your headphones for long-term rough use.
? The ultimate open-back headphones buying guide ❤️
How do you know if the open-back headphones you buy are the right ones for you? It is true that open-back headphones are of many types and come at many different prices, which means it is essential to choose our required facilities from a whole sea of them. Here are a few essential things you should remember while buying open-back headphones.
? Purpose
There can be a number of different reasons for buying a headphone, and only you know what it is. The purpose of your purchase will make an excellent decision on which headphones you choose. For example, if you intend to use your headphones casually, you will not be going for a costly set. But, on the other hand, the time period for which you expect these headphones to last will also count as the purpose for which you want to buy them.
? Model and design
Model and design are excellent factors for many buyers, which is entirely okay. Usually, designs come with their own specific and models with their own specific facilities. It is essential to look into these while you are attempting to buy your next set of open-back headphones. Usually, new models have better facilities as well as repaired bugs that existed in the old ones. Similarly, you can also expect better audio quality at the same price if you go for good models made by good brands. Like brand names, good models are also automatically a decider of how good your headphones will be.
? Professional versus amateur
Desiring an open-back headphone set is different and having to use it for professional services is entirely different. Whether you are buying professional, all personal reason is an excellent factor on which you will base which headphone set you go for. That being said, professional versions usually have many added facilities and are pretty expensive as well. As a beginner, you can go for high and amateur, which will work just as fine for the first few stages of learning. However, it is usually not suitable to substitute professional headphones for casual ones in the long term.
 ? Comfort
Comfort is obviously the most critical factor if you are someone who will have to use your open-back headphones for an extended period of time. However, good comfort when opening back headphones usually depends on the material used and what kind of headphones it is. It is also subjective, as some people prefer plugins while others prefer over-the-ear versions. There are yet others who swear by over-ear ones! Earpading and premium materials increase the comfort of good open-back headphones.
 ? Durability
No matter how long you expect your headphones to last, they should still be made of durable material. It is because only durable headphones will last rough use. However, it is not true that only high-end headphones have a durable body. These days even budget headphones have a durable structure that interests users who are using these headphones for great lengths of time.
 ? Bluetooth or wired
Since open-back headphones are not usually used out of doors, wide headphones are still a heavy contestant in the new Bluetooth creations. Therefore, wired headphones are still a great option if you plan to use open-back headphones on your desk. Why headphones are also easier to use at your desk as long as you can ensure the wire does not stretch or break. However, for some other people, Bluetooth lasts much longer.
Seven best open-back headphones 
It is now time to look at the seven best open-back headphones the international market offers American users. Here is a list of the seven best headphones you must try to keep while looking for the open-back headset that will work for you.
? ASTRO Gaming A 40 TR ?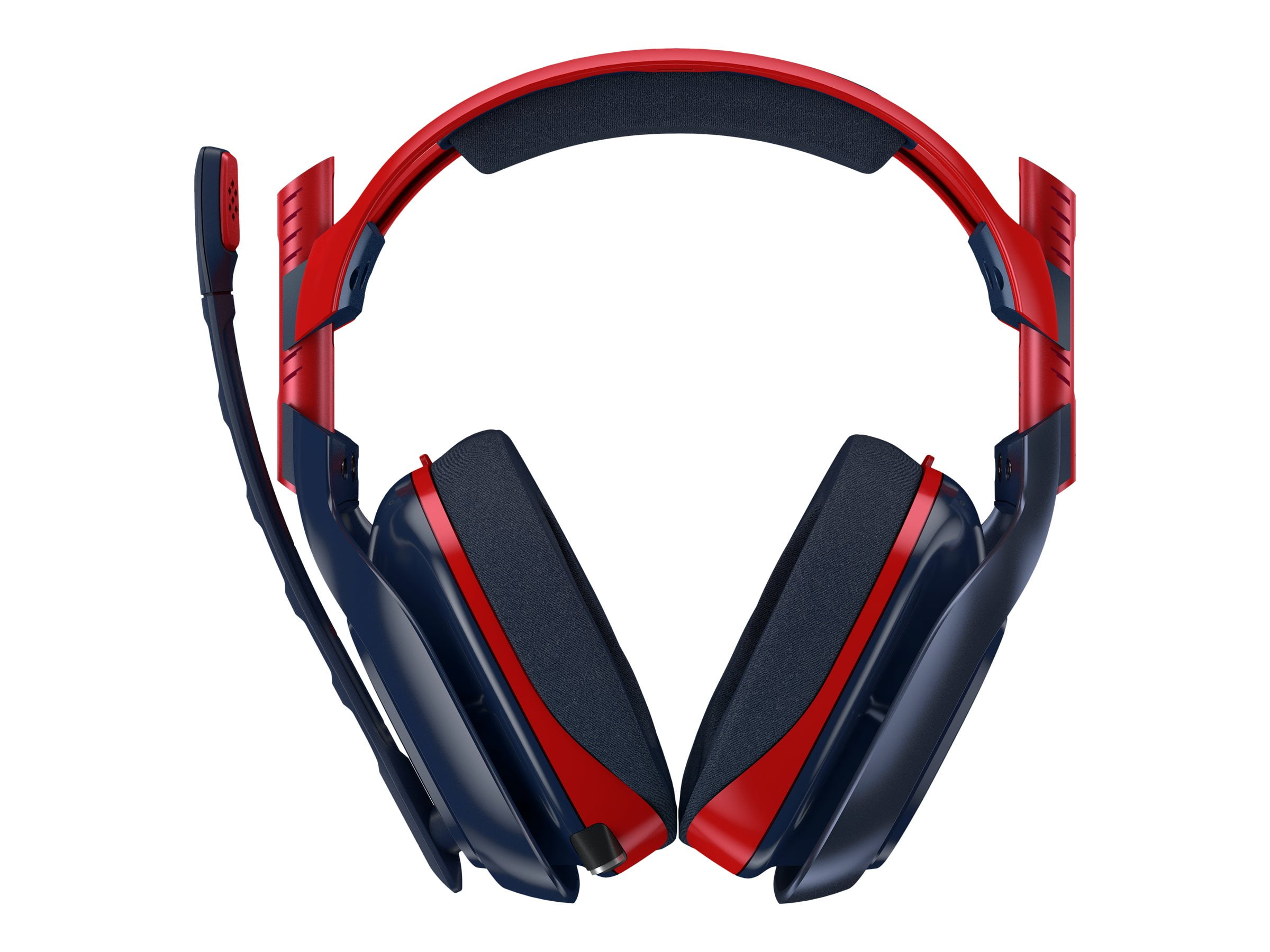 A spectacular gaming headphones addition to our list right at the beginning, these premium quality headphones are bound to take you by surprise any day. Made by a climate-friendly company that takes the health of our planet seriously, these headphones are compatible with PlayStation 4, PlayStation 5, Xbox series XS Xbox One and many more. It also comes with command center software which allows you to temper the audio settings in order to have a better experience. The fit and the finish are highly commendable, and the model is surprisingly lightweight.
? Pros
One of the best quality audio
Premium leather cushion design
Voice isolating mic
It also has Dolby Surround 7.1 allows you to hear everything
Mod Kit ready
? Cons
The open-back feature could be better
Not Bluetooth
Cables are not optical cables.
Price
$300
Our Verdict
Astro Gaming A 40 TR is one of the safest options you can go for as a gamer for excellent quality open-back headphones that will not make you compromise on the voice input factor. However, we do realize that this is quite an expensive option to go for.
_______________x_______________
?Samson technologies SR850 SEMI OPEN BACK
?
These are semi-open back, beautifully made over-the-ear headphones with a wiring system that protects them from getting damaged quickly. It has velvet padding and is a better option for those who find the leather paddings entirely comfortable. These headphones are specifications made for mixing, mastering, and developing audio tracks. Therefore they are designed to provide comfort during long work hours. This model is the perfect option for sound engineers, musicians, and general music enthusiasts.
? Pros
Self-adjusting headband
One-fourth stereo adaptor included
Excellent audio quality with emphasis on accentuating the audio structure
Hi-fi monitoring
Comes with 50 mm drivers for exceptional reproduction and a wide dynamic range
? Cons
Only semi-open on the rear end
Not Bluetooth
Price
$63.35
Our Verdict
It is the best budget option, hands down, for professional audio mixing open-back headphones. Even though they are only semi-open back, they provide quite a neutral stand on audio files. In addition, they are better for people specifically working with musical audio since assembly open back balances the need for resonance with the annoyance that comes with it.
_______________x_______________
?Philips audio SHP 9500 PRECISION STEREO
?
You can never go wrong with a Philips headphone made for professional usage. Marketed as a performance audio developing headset, this is specially designed like the one introduced before on this list to provide comfort during long hours of wear. It even comes with an excellent headband that supports your head and neck. These professional audio headphones are one of the best in the market regarding audio quality and are also known for their durability for decades.
? Pros
Guaranteed Philips headset audio quality
Breakable air cushion
Gold plated connector with acoustic system enabled
Its steel headband gives strength and durability.
It also has 50mm neodymium drivers that deliver a full spectrum of sound
? Cons
Not Bluetooth
Bass is toned down often
Price
$74.99
Our Verdict
This wired over-ear headphone is our top all-rounder choice from this list of the seven best open-back headsets. This headset takes all the boxes of branding, is lightweight and comfortable, has excellent audio quality, and has a reasonable price point. On top of that, you also get well-known maintenance and warranty on all Philips audio products.
_______________x_______________
?HIFIMAN edition XS full size?
On a list of headphones that are open back, let us talk about headphones that are open back. This headset does precisely what it says – it creates a tremendous open-back environment for audio to flow through without any resonance or air resistance to users. As a result, these headphones are the best open-back headphones you will ever find that meet the criteria of providing clear and crisp audio. Furthermore, it is the upgraded version of the popular ex edition and contains many professional-grade facilities. These are faux leather, well-padded headphones that provide a comfortable fit. Also, the headband does feel nice. But sometimes, it feels heavier.
? Pros
Invisible stealth magnet technology that does not generate interference
Extreme clarity in audio
Supports balanced cable
Provides outstanding passive soundstage performance
Very consistent audio
The build quality is superb
? Cons
Not as lightweight
Many reviewers are not happy with the design and materials used
Can be big too for small-headed people
Not suitable for sports
Price
$499
Our Verdict
These are definitely not the cheapest headphones out there. Apart from excellent audio quality, they don't have much to recommend themselves with. However, one also has to agree that this audio quality is incomparable to any other.
_______________x_______________
?Beyerdynamic DT 990 PRO 250 Ohm?
Another big brand name on this list is Beyerdynamic. Beyerdynamic DT is a masterpiece in the world of open-back headphones. The designers have maintained everything from a suitable lightweight to excellent questioning and a great design without compromising on the sound quality, which is the primary factor of the 990. This matte black headset has a bare minimum plastic covering and it looks shiny, stylish, and noteworthy from a distance. The earpads are wrapped in a plush velour material, making them comfortable. It is also one of the most durable headsets on this list. It has a single-sided cable. These are on-ear headphones that are suitable for people who do not have trouble wearing headphones on their pinnae.
? Pros
0 singer-sided cable
Designed with excellent audio quality for professional mixing and editing
Lightweight
Top-notch build quality
Great lows and highs
? Cons
It drains a lot of power
Lows and highs are more enhanced than the mids
Not for portable use as it is large and bulky
Price
$134
Our Verdict
Beyerdynamic DT 990 PRO are the more affordable professional headsets that do not compromise material design and quality. However, it is a common concern that there is a lack of amp in these headsets, and the bass fades out.
_______________x_______________
?Sennheiser HD 800 S?
The name shows that these are one-time investments that climb the expense ladder but never disappoint. These headphones are definitely for people who have a lifetime dedicated to the audio industry. And the performance of these headphones is catered to such clients as well. These headphones have massive open-back earcups and high-grade plastic and metal headband. The large, spacious ear cups are not too tight on the head and provide you with a comfortable listening experience. Also, the earcups and headband are well padded with a suede-like material. It has an audio quality that segregates each different musical aspect and exemplifies it to the user's notice without reducing the overall quality or beauty of the piece. They also have a great design, and the material quality is surprisingly comforting.
? Pros
Great ear Cup design to increase comfort
Advanced absorber technology
Claims to have the most significant drivers ever used in dynamic headphones
This headphone is great for neutral listening
Excellent audio reproduction
? Cons
It takes a lot of power
Not Bluetooth
Bulky and heavy
Price
$1599.95
Our Verdict
The price of these headphones makes them quite an impossible option for many customers. However, if the price is not an issue, then a better pair of open-back headphones is impossible to come across in the market.
_______________x_______________
?Philips audio Fidelio X2HR?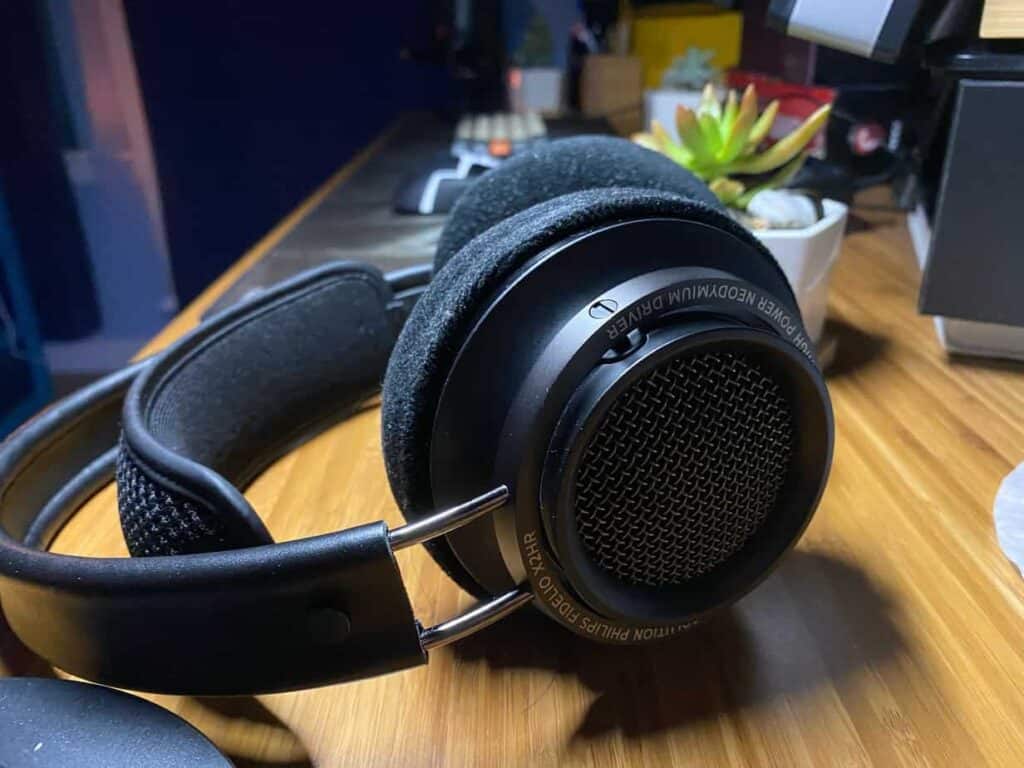 This headphone is another Philips creation with a practical and unique design that will astound you. With ample notice to your comfort, it comes with a double-layer headband and premium-quality ear cushions. This premium, stylish headphone is a mix of metal and good-quality plastic, giving it a high-end look. The headphone feels dense and solid, and the audio cable is detachable. The model is designed to provide neutral audio without rough highs or lows. It has a 3 m oxygen-free cable to support its working and a 3 mm adaptor to go with it. Tilted speaker plates further enhance the audio quality of severe users.
? Pros
Extended response frequency enabled
Excellent material quality and build
They are very lightweight.
The sound profile is very well balanced
Excellent mid-accuracy.
? Cons
Not easy to carry
Delicate
Poor noise isolation and leakage performance for the open-back design
Don't fold up into a more compact size
Price
$203
Our Verdict
These open-back ear headphones are another of those all-rounder choices that you will never go wrong with. Even though they are a bit delicate and therefore not relatively easy to carry, they come with their own case, which can make the process easier.
_______________x_______________
Conclusion
Open-back headphones can be a requirement for some people and an aspiration for others. Most of them are pretty expensive, and it is essential to distinguish the usage of your headphones before buying them, lest you end up paying more money than you should for a professional-grade headset.